Christoph Waltz: From Inglourious Nazi to Zero hero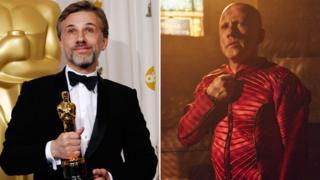 The past five years have been quite the rollercoaster for dapper Austrian actor Christoph Waltz, winning two Oscars in Quentin Tarantino movies and working with Roman Polanski and Tim Burton.
The 57-year-old discusses his latest role in Terry Gilliam's The Zero Theorem, as well as his upcoming cameo appearance alongside Kermit and Miss Piggy in Muppets Most Wanted.
The two films - released within a fortnight of each other in the UK - could hardly be more different.
In their own ways, though, they are testament to the sudden ubiquity of an actor who, before 2009, was virtually unknown outside the German-speaking film and TV industry.
Yet Waltz is swift to play down any talk of overnight celebrity.
"I've been doing this for a long time. So what is in the awareness of the greater public does not necessarily correspond with what's in mine."
Take his breakthrough role as Nazi colonel Hans Landa in Inglourious Basterds, a performance that garnered him the first of his two Academy Awards for best supporting actor as well as a Bafta, a Golden Globe and a host of other accolades.
For many, his portrayal of the character - an outwardly affable and highly articulate individual capable of chilling cruelty and ruthlessness - was the highlight of Tarantino's revisionist World War Two saga. According to Waltz himself, though, "I didn't do anything different from what I did before.
"Over 37 years I've had the opportunity to play all kinds of characters, so it was not such an extraordinary thing to play a part like that.
"Did the success of that film make one's view of the future encouraging? Definitely," he continues. "But what I do for a living hasn't changed that much.
"I'm still doing what I believe in, I'm still trying to hone what I have at my disposal, I'm still more or less on the same path. Only the circumstances have brightened up the illumination."
Since Basterds, Waltz has been seen as an abusive circus animal trainer in Robert Pattinson romance Water for Elephants and as one quarter of the stellar cast of Roman Polanski's brittle 2011 comedy Carnage.
He also reunited with Tarantino to play a travelling dentist cum bounty hunter in Django Unchained, a blood-splattered Western that saw him once again honoured at the Oscars, Baftas and Golden Globes.
The Zero Theorem, however, finds him in yet another different guise - a reclusive computer genius living in a dystopian London that is as starved of hope and meaning as his skull is shorn of hair.
The Vienna-born actor had few qualms about shearing his locks, though he does confess to a few reservations about also losing his eyebrows to play the strikingly monikered Qohen (pronounced Cohen) Leth.
"The hair was not that big of a deal, but the eyebrows were odd I have to admit," he recalls. "But the script called for a hairless creature, so hairless it needed to be.
"There's a tendency to mystify acting, as if it's not interesting enough and we need to jazz it up. But it's not a big creative effort. I just took the razor and that was it!"
The fact that Waltz was prepared to make such a significant tonsorial sacrifice is evidence of his commitment to Terry Gilliam's vision, one the Brazil and 12 Monkeys director achieved on a budget far less than what is usually required for a futuristic fantasy.
"The right budget for the movie would start at ten times as much as what we had. But Terry always found a way.
"We had a choice - either make the movie for what there was or don't make it at all. Once you make that decision, you have to find a way to go about it.
"What you don't have in your budget you need to have in your creative approach, and Terry figured it out."
Waltz is effusive in his praise for Monty Python member Gilliam, whom he describes as a "a true artist". "Once he gets going he can't be stopped, nor should he be.
"His approach is like an intense wrestling with his creative chaos, and how he tries to tame that beast and bring it into a form that's attractive for the rest of us to participate in.
"The artistic battle that rages within Terry at all times is an incredible source of energy. It's really an experience to work with him."
An experience of a different kind awaited Waltz on the set of Muppets Most Wanted, the latest big-screen outing for Jim Henson's fuzzy felt creations, in which the actor makes a fleeting cameo appearance.
"I only had one day, but I wanted to do it because of the Muppets," he explains. "They are the most enchanting and unusual colleagues - if I can call them such - that you could possibly imagine.
"They have everything the actor has except the ego, so the flow in the exchange is completely unobstructed.
"It's really magical to find yourself playing with these puppets, like you would with any other creature you might play with."
We will see more of Waltz later this year in Big Eyes, a biopic from director Tim Burton about American artist Margaret Keane and the husband who claimed credit for her work.
Waltz describes Burton as "one of these rare creatures on earth who see everything from an angle you haven't quite ever assumed.
"I love it when I get to work with someone like Terry or Tim or Quentin, directors who have a very, very personal view of the world," the actor says.
"That's the thing that fascinates me about what I'm doing - that I get to work with these extraordinary people."
The Zero Theorem is out in the UK and Ireland on 14 March. Muppets Most Wanted is out in the UK and Ireland on 28 March. Big Eyes is out later this year.