Chris Tarrant recovering in hospital after 'mini-stroke'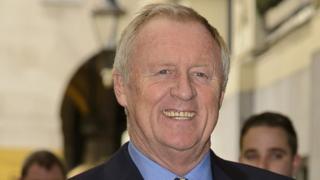 Broadcaster Chris Tarrant is recovering in hospital after suffering a "mini-stroke" while flying from Bangkok to London earlier this month.
His manager, Paul Vaughan, confirmed the 67-year-old was taken to hospital from Heathrow airport on 1 March after being taken ill on the plane.
"Chris has been diagnosed as having suffered a mini-stroke," Mr Vaughan said.
"He is making an excellent recovery and will be discharged in a day or so."
Mr Vaughan added: "He is hugely grateful for all the care he has received at Charing Cross [Hospital] and for all the kind wishes that has been receiving on a daily basis."
Tarrant had been filming in Asia and South America before falling ill - which his manager initially attributed to an asthma attack.
The former Tiswas presenter and Capital Radio DJ recently hosted the final edition of Who Wants To Be a Millionaire? in the UK, broadcast on ITV on 4 February.
Mr Vaughan said Tarrant was made of "stern stuff", but would not be going straight back to work after he is discharged.
"This is a nasty wake-up call," he told The Sun, saying doctors had found a blood clot in his leg "which they managed to break up".
According to the newspaper, the presenter's treatment was complicated after he developed bronchitis.