The Pierces share a photo diary of the 'failed' sessions for their fifth album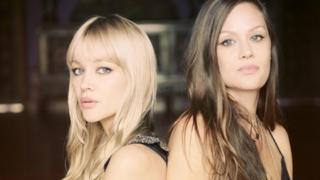 Having spent a decade struggling in near-obscurity, The Pierces finally found success in 2011 with their fourth album, You And I.
Produced by Coldplay's Guy Berryman, the record's bright country-rock harmonies and lovelorn lyrics scored them a gold disc in the UK.
As they recorded the follow-up, Creation, New York sisters Catherine and Allison Pierce kept a photo diary of the sessions on their Instagram accounts.
With the first single, Believe In Me, already in heavy rotation on Radio 2, the band share some of those pictures with BBC News - and explain why their first attempt at the album had to be scrapped.
First day in the studio - 5 October 2012
Catherine: That's the failed first sessions for our new album! As you can see, I did all the demos on the iPad and that shaped the electronic sound a little bit.
Allison: We were happy that day - but there was a rather big bump in the road.
Catherine: We started with one producer and recorded a few songs, and then we realised it wasn't right. The chemistry wasn't there. It didn't have the emotion we wanted so there was a moment where we had to stop.
What was the problem? Was it the way the album sounded, or were the songs not ready?
Allison: It was all the same songs as the finished album, it just wasn't translating.
Catherine: It's funny, you have to have a chemistry with the producer.
Allison: It's like, you can put two supermodels in a room and just because they're good-looking it doesn't mean they're going to love each other.
The second attempt - 20 January 2013
You ended up making the record with Christian Langdon, who'd been part of your touring band...
Catherine: He goes by Leggy. Leggy Langdon is his nickname, because he has very long legs. But yes, we'd spent a lot of the budget on this other producer so we were kind of panicking. We had done some b-sides with him in the past and he also happens to be my boyfriend.
Allison: Speaking of chemistry...
Catherine: So, yes, there was a little chemistry there - but we were concerned about that, because we've butted heads when we worked together in the past. We thought, if we make an album together, is this going to break up our relationship? Or if it doesn't sell, will that break up our relationship?
Allison, did that put you in the role of relationship counsellor?
Allison: Oh no! That was not a role I was willing to take on!
Hoop dreams - 20 January 2013
Catherine: This is shooting some b-ball outside of the studio. We were actually both pretty good!
Allison: This is Sunset Sound, which is a very famous studio in LA. You can Google the albums that were made there - Purple Rain was one of them.
Going through the family photo album - 24 February 2013
Allison: This is funny! We were dancers when we were younger. That's me on the left and Catherine on the right.
Catherine: If you wanted to go to a ballet summer camp, to get an audition you had to send a picture of yourself in an Arabesque. So every year, we took a picture and sent it in.
Which of you is doing it best?
Catherine: Allison's is higher. That's not my best Arabesque in that picture.
Can you still do it?
Both: No! No! No!
Allison: One time, we were on the beach and we were dancing around, so I tried. In your mind you think you can still do it - but I saw a picture and I was like "aarrgh".
In the vocal booth - 1 March 2013
Allison: We don't record our vocals together - but every producer wants to try it.
Catherine: The levels are always a little off.
Who's louder?
Allison: Probably Catherine.
Catherine: It's usually me!
You don't write together, either. Does that surprise people?
Allison: Yes, I think so.
Catherine: It's really personal, what we're writing. So if it comes to me there's not time to phone Alison up and go "come over here, I'm writing a song!"
You And I was a heartbreak album and, while this feels more optimistic, even the love songs are shot through with doubt. Why is that?
Catherine: A lot of these songs were written in the early phase of my relationship. I had been through a lot of painful relationships and so had Leggy. So when we found each other we were a little careful, a little nervous. A lot of the songs are about that.
How does that manifest itself in the writing? Does it change the instrumentation or the keys you write in?
Catherine: Yes, I think it becomes less melancholy when you're in a trusting relationship and things are getting happier. But I do love melancholy songs, so we still threw some in there. Allison probably wrote those ones!
At home with mum and dad - 12 September 2013
Catherine: Our dad is very young at heart.
Allison: He's a big kid.
Catherine: He's very funny and very cool. They're good parents.
Your dad was a musician as well, wasn't he?
Allison: He was an amazing frontman and singer.
Catherine: He would leap off the stage and do the splits and touch his toes in the air.
Did he ever try to muscle in on your gigs.
Allison: He did at first. We had to tell him "no!".
Catherine: He would have stolen the show. Even now, he's at the sound booth, like "turn this up, turn this down!".
Allison: But it's so sad - that was his dream and he didn't get to live it, because at 22 years old he started having children.
Catherine: But he can live through us vicariously.
Allison: And he does.
Desert photoshoot - 21 November 2013
Allison: This was in Joshua Tree, about two hours outside of LA. Do you know Joshua Tree?
There's an album about it by an obscure Irish band, I think?
Allison: Yeah, you've heard of that one? That band U2? Anyway, the record label filmed a promotional video for the album out there and we got some incredible shots of this canyon.
Creation is the first time you've been allowed to make a second record for the same label. Does that give you a sense of confidence?
Catherine: It made it feel like our sophomore curse! This is the first time we had to measure up to something from our past.
The success of You and I must have been gratifying though. How did it make you feel?
Allison: How do you think that would feel?
Catherine: For so many years we'd get a little bit of success and then it would deflate. So, when it kept moving forward and going up and up and up, we felt like we were floating. It was so nice, it was such a feeling of relief.
Making the first video - December 2013 to January 2014
Is it true you filmed the video for Kings on your phone?
Catherine: Yes! I'd been fiddling around with old photos on my phone and I found this stop motion technique that I thought looked pretty cool. Then, the label was talking about doing a lyric video for Kings and I suggested making something to go behind it.
They were like, "cool, we'll hire someone to do something just like that". And I said, "or I could just do it?!".
Had you done anything like that before?
Catherine: I learned [film-making software] Final Cut Pro because we got a video back and I didn't like the edit. I kept trying to explain what I wanted and they didn't get it, so I was like "I have to do this myself". I have such respect for editors now, because you can totally change the look of something depending on how you cut it.
Is your phone available for hire now? Will you be doing the next Katy Perry video?
Catherine: I would love to!
On the promo trail - March 2014
Allison: We've just finished a radio tour of the UK - we went to 15 towns in four days.
Which is your favourite song on the record?
Catherine: I love Monsters, which Allison wrote. I think that's an amazing song.
The opening line of that track sounds like a Pixar movie: "There were monsters beneath our bed and we taught them how to sing." Have you considered pitching it to them?
Allison: No, but that's a great idea!
Catherine: Actually, there's someone right now that's in the process of turning our last few albums into a musical.
Allison: This woman grew up in the same town we did. I guess she loved our music and found a playwright and some producers, and they've taken our music and written a play around it. We just got the script for it, the first act, and it's so moving that someone is doing this. I was in tears reading it.
It's your very own Mamma Mia!
Catherine: Oh my God, we are Abba!
The Pierces single, Believe In Me, is out now. Their album, Creation, is due in June. You can find Catherine and Allison separately on Instagram.