300 sequel sends Lego Movie tumbling at UK box office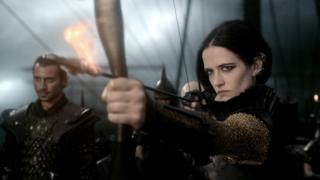 300: Rise of an Empire has emulated its North American success with a number one debut on the UK film chart.
The sequel to the 2006 epic 300 - which stars Eva Green - took £2.7m over the weekend, according to early estimates.
The historical drama knocked The Lego Movie off the top of the chart, where it had held firm for three weeks.
Set in ancient Greece, the 300 sequel depicts a sea battle between Greeks and Persians. The film briefly features 300 star Gerard Butler as King Leonidas.
In the US and Canada, the film also opened at number one over the weekend, with takings of $45.1m (£27m).
The second highest new entry was Wes Anderson's The Grand Budapest Hotel at three, which took £1.5m.
The only other new entry in the top 10 was animated film Escape from Planet Earth, entering the chart at seven.
The family adventure about an alien astronaut who is captured on Earth, features the voices of Brendan Fraser, Jessica Alba and Sarah Jessica Parker.
Post-Oscars activity was slow, with best picture winner 12 Years A Slave only enjoying a slight boost in its ninth weekend of release to gross £368,857, placing itself at number nine.
This week's releases include Need for Speed - a video game adaptation starring Breaking Bad's Aaron Paul - and Veronica Mars, the first "fan-financed" film using crowdfunding website Kickstarter.