Roger Lloyd Pack drama to air on Radio 4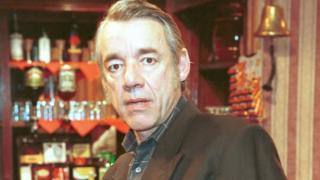 A spoof radio drama starring the late Only Fools and Horses actor Roger Lloyd Pack is to air later this month.
The actor recorded two roles for Radio 4's Gloomsbury just before his death from pancreatic cancer in January.
He plays amorous gardener Gosling and put-upon husband Lionel Fox alongside actors including Miriam Margolyes, Alison Steadman and John Sessions.
The show sends up the celebrated literary Bloomsbury Group, which included Virginia Woolf.
The first episode of the series will be dedicated to Lloyd Pack, who had previously talked of his interest in the Bloomsbury set of writers and intellectuals who were also famous for their tangled private lives.
"I think it's a rather brilliant idea to make fun of them as they lived in this extraordinary, slightly snobby bubble," he said of the group which also included EM Forster.
Lloyd Pack was best known for playing lovable dimwit Trigger in Only Fools and Horses and Owen Newitt in The Vicar Of Dibley.
He joined Gloomsbury to replace former Young Ones star Nigel Planer, who was busy in West End hit Charlie and the Chocolate Factory.
The second series - which also features Morwenna Banks - will continue to follow the fortunes of Vera Sackcloth-Vest, a writer, gardener and transvestite played by Margolyes.
"The first series was met with hysteria and delight from everybody," the actress said.
"I'm 100% thrilled to be back playing Vera amongst this extraordinary cast. Vera is great fun to play because she's a fount of sexuality and desire and simply doesn't care how much sex is involved."