300 sequel slays competition at US box office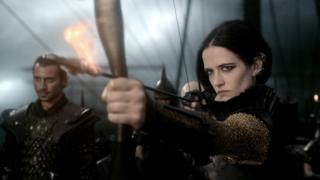 The sequel to 2006 hit 300 slayed the competition at cinemas this weekend, earning $45.1m (£27m) in the US and Canada and $87.8m (£52.6m) worldwide.
300: Rise of an Empire did not equal its predecessor's first weekend tally of $70.9m (£42m) in North America, but still performed far above expectations.
"Clearly we captured a much broader audience than we anticipated," Warner Bros executive Jeff Goldstein said.
Set in ancient Greece, it depicts a sea battle between Greeks and Persians.
The film only briefly features 300 star Gerard Butler as King Leonidas - leader of the Spartan army who famously held off a vastly superior Persian force - concentrating instead on a female warrior played by Casino Royale's Eva Green.
Her participation is understood to have boosted the female audience for this male-skewed release to 38% - a 9% increase on the original's 29%.
Outside North America, the film was also the top draw in Brazil, Russia, Mexico, Germany, Spain, Italy and the UK.
Some $12m (£7m) of its opening weekend tally from the 58 markets in which it played came from 3D Imax screenings.
In the US and Canada, Noam Murro's follow-up to Zack Snyder's comic book-inspired original comfortably saw off Mr Peabody & Sherman, its nearest competitor.
The animated title about a time-travelling dog and his human son, which opened in the UK on 7 February, took $32.5m (£19.4m) between Friday and Sunday, according to studio estimates.
Liam Neeson's airborne action film Non-Stop - last week's number one - fell to three in this week's chart, taking $15.4m (£9.2m) in the US and an additional $12m (£7m) worldwide.
Toy spin-off The Lego Movie and the Christianity-themed Son of God rounded out this week's top five, according to box office tracking firm Rentrak.