Opera director Gerard Mortier dies aged 70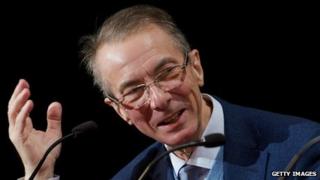 Gerard Mortier, who spearheaded an operatic production of Brokeback Mountain at Madrid's Teatro Real (Theatre Royal), has died aged 70.
Mortier, who was born in Belgium, had been suffering from cancer.
In a career spanning more than three decades, Mortier was also head of the Paris Opera from 2004-09 and ran the Salzburg Festival between 1990 and 2001.
Brokeback Mountain, based on a story about two gay cowboys, took six years to come to the stage.
Despite his illness, Mortier attended the premiere in January.
His tenure at Teatro Real had come to an end the previous September when he announced that he was being treated for cancer and urged the institution to consider a list of non-Spanish successors.
In a statement, the institution said Mortier "contributed to promoting Spain's operatic and cultural landscape and placing the Teatro Real among the world's leading international opera houses".
Mortier was due to become director of the New York City Opera (NYCO) in 2008 but resigned before he took up the post over budgetary constraints.
He had been planning to stage Brokeback Mountain there, but took it with him to the Teatro Real.
In an interview with the New York Times last month, Mortier bemoaned the end of the NYCO, which dissolved itself in 2013 due to financial difficulties.
"For me, the end of City Opera is a disaster. I must say I am suffering enormously. I think New York, such a big town, needs two companies," he said.
Mortier also revealed that he was suffering from "a very bad cancer" but was remaining upbeat.
He said: "I do everything I can. The only thing that is important for me now is that I can be busy intellectually. I can talk with you. I fight for the New York City Opera."