The Act of Killing wins Guardian Film Awards best film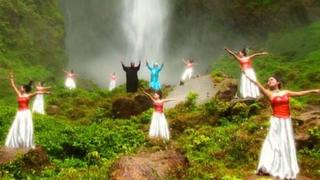 Documentary The Act of Killing, about Indonesian death squads in the 1960s, has been named best film at the inaugural Guardian Film awards.
The film beat competition from Oscar winner 12 Years a Slave, which had topped a readers' poll for the prize.
On receiving the honour, director Joshua Oppenheimer said: "Artistically, it's a far more meaningful award to me than an Oscar".
12 Years' film-maker Steve McQueen went on to win the best director award.
Gravity was named biggest game-changer, a category celebrating film innovation.
The awards were voted for by a combination of The Guardian's film critics, two external judges - Adam Curtis and Claudia Winkleman - and Guardian readers, with more than 5,000 votes cast online.
The public votes decided the shortlists. Their choices then counted for a single vote in the final round, alongside those of the critics.
According to the newspaper, its readers put 12 Years a Slave first in almost every eligible category.
Controversial but acclaimed documentary The Act of Killing, which features first-hand accounts of murder and torture around Indonesia in the 1960s, came seventh in readers votes but topped the critics' choice.
It was called "one of the best films I've ever seen" by Film 2014 host Winkleman.
Guardian film editor Catherine Shoard added: "We're proud to give the top honour to a film we all felt so passionately about; it's the embodiment of what these awards are trying to do - celebrate brilliant, boundary-pushing cinema, regardless of genre, language or box office, and put our readers at the heart of the debate."
Cate Blanchett followed up Sunday night's Oscar win by topping the best actor category for her performance in Blue Jasmine, while Nebraska's June Squibb was named best supporting actor.
Judi Dench was honoured with the lifetime achievement award, while Philomena won best marketing campaign - following the real-life Philomena Lee and Steve Coogan's visit to the Pope.
Producer Jeremy Thomas was given an outstanding contribution award. He produced Bernardo Bertolucci's Oscar-winning epic, The Last Emperor with other film credits including Sexy Best, A Dangerous Method, Creation and Crash.
Other awards included best scene, won by The Great Beauty's opening party, and best line of dialogue for Behind the Candelabra's Liberace quip: "What a story - you got everything but a fire in the orphanage."
The winners were announced at a ceremony in London on Thursday night and also featured two categories voted for solely by readers.
They named The Rex cinema in Berkhamsted best cinema, while Nicholas Winding Refn's Only God Forgives won the so-bad-its-good award.