PD James leads the stars offering their top 10 tips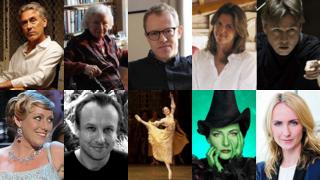 Last year, some of the art world's biggest names handed out career advice in a series of articles for the BBC News website.
Author PD James, designer Emma Bridgewater, Oscar-nominated screenwriter Tony Gilroy and Jason Bell, who photographed the christening of Prince George, all listed their top 10 tips for people hoping to emulate their successes.
They spoke of the benefits of hard work, valuing criticism, leaving your comfort zone and even going to the pub.
Here is a selection of their best tips for succeeding in their chosen field.
A brand new series of Top 10 Tips begins on 15 March.
1. Screenwriter Tony Gilroy - Develop a thick skin and just keep going
I have assumed both positions of the Hollywood Kama Sutra - top and bottom.
It's very important to be able to handle rejection. I think one of the reasons writers are shy is because we are all very suspicious of our own process because it fails so often.
It's no different from being a novelist or a composer or a painter. When you get rejection from the outside world, you either move on or you don't.
But I think the hardest times are all the days when nothing happens. Everybody who has ever written anything knows what I'm talking about. A great day of writing tops everything.
2. Author PD James - Use your own life as material
You absolutely should write about what you know. There are all sorts of small things that you should store up and use, nothing is lost to a writer. You have to learn to stand outside of yourself. All experience, whether it is painful or whether it is happy is somehow stored up and sooner or later it's used.
I love situations where people are thrown together in unwelcome proximity. where all kinds of reprehensible emotions can bubble up. I think you must write what you feel you want to write because then the book is genuine and that comes through.
I believe that someone who can write, who has a feeling for words and knows how to use them will find a publisher. Because, after all, publishers do still need to find new writers. We all get old and we die and that's that and there have to be successors.
3. Royal photographer Jason Bell - Do your homework
To me, a great photograph goes beyond just being something beautiful to look at. I suppose, to be a better portrait photographer than everybody else, you are trying to draw something out of a person that they don't show everybody. I think it's absolutely crucial to be a people person. It always amazes me when I hear about shy or socially awkward photographers, to me that's really weird.
You've got to be able to get on with people and you've got to be interested in them. I always research people before I photograph them. Do your homework. If you are trying to say something about someone, you need to know who it is you are saying something about. Everyone can point a camera, you need to be able to get people to give you more.
4. Ceramics designer Emma Bridgewater - You've got to love it!
Don't set out to do something that you are not absolutely passionate about because, to get through the hard work of it, you have got to feel passionate and I think, probably, for me, a big saviour has been the cause of Stoke.
At times, if it had just been about making money, I probably would have seriously doubted my intention to carry on. Whereas the feeling of caring about the industry and the city and the people who work here and their skills - the passion for that has been a great driver. I think to try and sell widgets all your life would probably be terrible, you've got to love it!
5. Conductor Esa-Pekka Salonen - Leave your comfort zone daily
I think the biggest danger for young people is to do too much too soon. Make little excursions outside your comfort zone daily or at the very least weekly, otherwise you will stagnate and that would be a mistake.
Find the balance between safety and danger. You cannot exist in the danger zone but also shouldn't exist solely in safety and that is without any exceptions. It is OK to take your time. Being a Finnish person, things can be quite slow so it took me seven years to talk to my wife for the first time. We've been married for 22 years now, so it was worth the wait.
6. Opera singer Sophie Bevan - Be willing to suck up
I think you have to be pretty easy going to be an opera singer. You have to be a friendly person - someone who likes working in groups, working with other people and someone who is willing to suck up a little bit to the people who are in charge!
You do hear about big divas, but in this day and age you are less likely to get work if you are like that. They would just pick a nicer person to work with. You absolutely have to love what you do. You have to be able to put your whole heart and soul into it because it takes up so much of your life.
If you are a homely person who needs to stay at home and be near your friends and family it can be very difficult because you spend so much time on the road.
7. Self-published author Nick Spalding - Books aren't burgers
Self-publishing has given lots of people the ability to write lots of books and get them out there. People need to remember that just because you can, doesn't mean you should.
The most important thing to remember, when you write a book and release it, is that you are entering into a relationship with the reader and you owe it to them to provide a product that is as professional as possible.
Books aren't burgers - they are not instantly consumable things and they shouldn't be rushed. Always respect your reader and put 100% into every book that you write.
8. Principal ballerina Lauren Cuthbertson - Have a struggle
Your technically best years match your emotional ones. When you go through disastrous times, you really draw on your inner strength, and your emotions are so much more heightened.
For me, the technical side of ballet is just the palette that we work with. I love doing the ballerina thing, of course I do, but I feel like I'm starting to give more to my performances and I believe that is because of everything I've been through.
I think the next two or three years will be my personal peak, just because of the amount of time I've had off due to illness and injury. I'd like to think that I could do this until I am 40, but I genuinely don't know what I want to do later on in my career.
9. Star of Wicked Willemijn Verkaik - Marry someone understanding
I have a husband and it can be difficult sometimes to spend time together. I travel, I'm on stage six nights a week and not everyone will want to live like that.
It can be a good idea to marry someone in the business who will understand the hours. I see so many people around me who it doesn't work out for. We always say three weeks is the maximum we will go without seeing each other.
I always say Skype has saved our relationship because it means we can still see each other and spend time together, just online.
10. Marie Claire editor Trish Halpin - Learn to switch off
I'm a very organised, calm person. I don't get stressed very often. When I face a situation now that makes me feel nervous or stressed I just say to myself, "it will be fine, you will do it, you always do".
Once I've calmed myself down, I seem to find the time to just get on with it.
I'm quite good at switching off at the end of the day and that's hugely important. On days off you'll find me wearing jeans, trainers, my parka coat - that sort of thing.
A lot of people I meet in my personal life, like other parents at the school gate, can be all sort of, "gosh, I can't believe you're the editor of a glossy magazine because you're so normal". It's funny, the expectation of what a glossy magazine editor should be.