Birds of a Feather recommissioned by ITV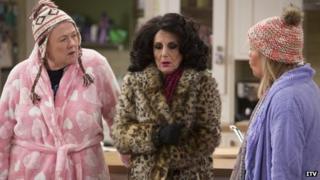 Sitcom Birds of a Feather is to return for a second series on ITV after proving a hit with viewers.
Starring original cast members Pauline Quirke, Linda Robson and Lesley Joseph, the revival picked up with the Essex girls and their neighbour, 15 years after they last appeared on BBC One.
Its first episode was watched by 9.5 million, giving ITV its most successful comedy launch in more than a decade.
The announcement came as the first series concluded on Thursday.
Creators Laurence Marks and Maurice Gran will also pen the second, eight-part instalment, which will be filmed later this year.
"We're delighted Birds of a Feather was such a success on ITV and really pleased to be asked to write another series," Gran said.
"We hope the further adventures of Sharon, Tracey and Dorien will continue to thrill audiences young and old."
The new series - which averaged 7.9 million viewers across its run - saw sisters Sharon and Tracey reconnect after falling out, while neighbour Dorien had reinvented herself as an erotic novelist - going by the name of Foxy Cohen.
It also starred Quirke's son Charlie as her on-screen nephew, Travis, along with former Busted star Matt Willis as his brother, Garth.
"We're very pleased that the brilliant chemistry between these three great actresses once again attracted the large and loyal audience that Birds of a Feather deserves," Elaine Bedell, ITV's director of comedy and entertainment, said.
"The writers and producers have done a fantastic job in making the show feel funny, fresh and relevant."