Dawn French revives Vicar of Dibley for BBC Radio 4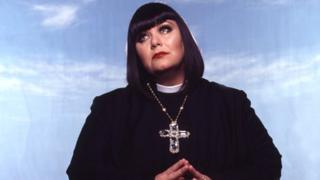 Dawn French is bringing The Vicar of Dibley back to record an alternative Thought for the Day for BBC Radio 4.
The Today programme feature is part of a series of special programmes on the station exploring fictional characters.
Thought for the Day usually features speakers from the world's major faiths, offering their perspective and insight on news or topical issues.
French played Reverend Geraldine Granger in Richard Curtis' popular BBC One sitcom from 1994-2007.
She reprised the role last year as part of her French and Saunders marathon on BBC Radio 2, where she was interviewed by Chris Evans for his Pause for Thought segment.
Curtis has written the Reverend's Thought for the Day especially for Radio 4's Character Invasion, which will take place on Saturday 29 March.
Other special broadcasts include Springwatch's Chris Packham in New York on the trail of Avis Giganteus - otherwise known as Big Bird from children's show Sesame Street - for Tweet of the Day.
Double Booker Prize-winning author Hilary Mantel and Bridget Jones writer Helen Fielding will discuss what it is like to let go of a character, while actress Maxine Peake will be talking to stars including Sally Hawkins and Michael Sheen about fictional characters.
The original cast of The Hitchhiker's Guide To The Galaxy will also reunite for a special performance,
"I am delighted to announce anarchy on Radio 4 for a day when some of our favourite characters from drama, literature and comedy will be dropping in and out of the schedule when you least expect it to explore and examine the nature of character," said Radio 4 controller Gwyneth Williams.
She added they would be attempting to answer many questions, such as: "What makes some fictional characters stay with us all our lives? Why does it take fictional characters to reveal deeper human truths? And what really brings these characters to life?"
A host of live events are planned around the UK and fans of BBC dramas such as The Archers and Doctor Who will be able to get behind the scenes as the venues where they are recorded open their doors.