Max Clifford: The fallen king of spin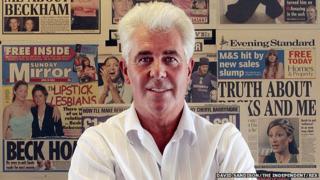 Max Clifford is the master media manipulator who was behind many of the juiciest tabloid scoops of the past 30 years - while at other times stopping scandals about his clients from hitting the front pages.
Clifford, who has been found guilty of eight counts of indecent assault, and cleared of two further charges, was one of the most powerful people in the British media in the 1990s and 2000s.
With unrivalled sources of gossip and unmatched influence in editors' offices, Clifford would plant or prevent stories that could end the careers of politicians, sportsmen and celebrities.
People who wanted to kiss and tell knew he would get them the best price (even after he had deducted his 20%).
He orchestrated tabloid revelations about the sex lives of politicians, including David Mellor and John Prescott, sporting figures such as David Beckham and Sven-Goran Eriksson and actors including Jude Law.
"He understood newspapers better than most," says Phil Hall, who was editor of the News of the World from 1995 to 2000. "It was a time when papers were spending a lot of money on stories and he happened to ride that wave.
"He understood what made a good story and what was necessary to corroborate it. And he was a real master at squeezing the lemon dry.
"Any time he did a story, he wouldn't place it in a paper once. It would appear for the next six months in different forms. So he was really good at getting the last buck out of an opportunity. And he was the first to do that."
Mr Hall was editor when Clifford arranged a story revealing that former Conservative deputy chairman Jeffrey Archer had asked a friend to lie on his behalf in a libel trial. That led Lord Archer to be found guilty of perverting the course of justice and jailed for four years in 2001.
Meanwhile, public figures who wanted to keep their indiscretions out of the press knew Clifford had the clout to help.
Negotiating power
"The biggest part of my game is not promotion, it's protection," Clifford told The Observer in 2006.
Mr Hall, who now runs the PHA Media PR agency, says: "Because of the number of stories that were coming in [from him], newspapers were wary of falling out with him.
"So he did have a certain negotiating tool. He could often come to editors and say, 'Look, you're doing this story about my client, my client's not happy about it, can we work it between us so that it's less damaging than it would have been?'
"He's famous for doing that. Some editors would negotiate with him on that level and some wouldn't."
The publicist also used his influence to ensure papers wrote about his other clients when they bought his juicy scoops.
After brokering the Archer story, he made sure the News of the World ran a four-page supplement on The Pet Club and two pages on the Erotica exhibition in Kensington, both Clifford clients. In addition, the paper carried a fundraising article on the Royal Marsden Hospital, for which he was an adviser.
"He was using the kiss-and-tells as a bargaining chip to succeed elsewhere," Mr Hall says.
Clifford was also the first publicist to become as famous as some of the stars he represented.
Mr Hall says this was a deliberate move to encourage more people to bring him their scandalous stories.
The publicist made an early television appearance representing Lady Bienvenida Buck after she sold the story of her affair with Sir Peter Harding, Chief of the Defence Staff, to the News of the World in 1994.
'Most powerful PR man'
"My view was [we should] let him go out there and promote the fact that he's behind the story because others will pour in. And that's what happened," Mr Hall says.
"He had thousands of people coming to him with stories, to the extent that he couldn't cope with the number of calls he was getting."
Danny Rogers, editor of PR Week magazine, says Clifford was "without doubt the most powerful PR man in the country" in his heyday.
"He had a lot of good contacts and he was very, very tough," Mr Rogers says.
"He would cut some very hard deals, saying, 'If you run this story you're not going to get this story.' Or, 'If you stop running this story, I'll give you something fantastic.'
"He was wheeling and dealing with stories with the likes of Kerry Katona or David Beckham or Katie Price, those kinds of A-list celebrities."
With such power and profile, Clifford's morals and methods have frequently come under scrutiny.
He has said he exposes public figures where he believes there is some hypocrisy and corruption.
He only went ahead with the Archer story, he said, because the politician was running to be London mayor and Clifford did not think he was a fit candidate.
Clifford told The Independent in 1999 that David Mellor, as part of the Major government's "back to basics" campaign, was "basing his whole image on his family life, and it was all a sham".
However, the ethical arguments for outing the extramarital affairs of some other celebrities were less clear-cut.
Clifford also represented figures such as OJ Simpson and purportedly advised the five men suspected of the Stephen Lawrence murder (he maintains he simply put them in touch with TV journalist Martin Bashir).
'Necessary to lie'
He has also not shied away from admitting that lying is a key part of a publicist's job.
"I've been telling lies on behalf of people, businessmen, politicians and countries for 40 years," Clifford declared during a PR Week debate in 2007.
"It shouldn't be necessary, but it is. I'd rather be honest, but I cannot be all the time. The only mantra I work to is that your duty is to your client.
"I lie on behalf of a cross-dressing MP, a prominent businessman who is having an affair with a man, and a gay footballer. Always the aim is to keep their identity out of the press.
"I'm proud I've been able to do it. There's only been one footballer who was revealed to be gay, and he hanged himself. I know the ruin that will befall these people if news gets out. Here, the truth is destructive - I lie because there is no choice."
The motion "PR has a duty to tell the truth" was defeated in a vote of the 260 public relations professionals and students who attended that debate.
PR 'fossil'
However, most in the public relations industry feel publicists such as Clifford have given PR a bad name, according to Phil Morgan, policy and communications director for the Chartered Institute of Public Relations.
"He is an excellent publicist, but he is not a public relations professional," Mr Morgan says.
Feeding individual stories to the tabloid press is "a small part of public relations".
The business "has moved on an enormous way from that kind of practice. We're talking about the fossilised prehistory of public relations," he adds.
"It's one-dimensional, very tactical and it's on the seedy end of media relations.
"He's as adept at keeping things out of the press as he is at getting them in there. Is that a professional, open and transparent way of working?"