Molly Smitten-Downes: Eurovision will be a challenge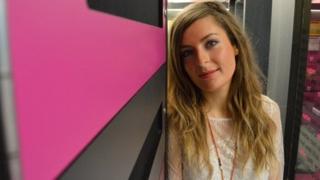 Pop singer-songwriter Molly Smitten-Downes was "adamant" she would not take part in the Eurovision Song Contest when first approached by the BBC, she says.
But she was persuaded and is now preparing to fly the flag for the UK with her song Children of the Universe in Copenhagen in May.
Smitten-Downes, from Leicestershire, is no stranger to the music industry, having had a top 10 hit in 2008 with Raindrops (Encore Une Fois), a collaboration with the DJ Sash.
She discusses her career so far, why she had reservations about Eurovision and why she is now confident she can succeed.
How did you get the Eurovision gig?
I uploaded some of my music to BBC Introducing, which is a platform for undiscovered artists. Someone from the BBC called Guy Freeman, whose job it is to put together this year's entry, heard me and got in touch to see if I wanted to have a go at writing something.
What was your reaction?
I was really surprised at first, and flattered that he thought I was worthy. And then I had a few reservations. Eurovision's not got the most credibility in this country, at the risk of sounding ungrateful.
Other countries have been doing it really well and putting through some current fantastic artists. Our entries have been great, they've been legends and really great songs, but for whatever reason they've not cut through. So I do realise it's a bit of a challenge I'm taking on.
Did you weigh up the pros and cons of what this might do for your career in the long term?
Yes, definitely. When they first got in touch I was adamant I wouldn't do it because I guess I haven't engaged with the competition much in the last few years. But having spoken to them about what they wanted to do, and doing my homework about previous winners and entrants, it sounded quite exciting.
I've been living by the ethos of following your heart and not your head, and when I spoke to Guy I just got that feeling in my tummy. I thought, 'OK this is surprising but I think I need to try this.' I really wasn't expecting to be won over, but I was. I certainly feel like I'm doing the right thing.
You've had a top 10 hit already so you're not a total newcomer.
Yes I had a top 10 with Raindrops, which I co-wrote with Sash and that was an amazing experience. But my heart just wasn't in that if I'm honest. I wasn't being true to myself as a songwriter and artist.
So it was a very conscious decision to move away from that and write music that felt sincere and natural to me. But that experience was incredible and threw me in the deep end and has stood me in good stead.
You lent your voice to a number of dance tracks - did you decide you would rather write your own material?
Yeah, I feel like I lost myself a little bit. I lost what I was about as an artist and was doing what I was told. Getting back to who I am as an artist felt really good. I was broke, but actually that doesn't scare me. Losing your integrity within yourself - that's what's soul destroying.
What is your earliest Eurovision memory?
Gina G [who represented the UK in 1996]. I remember being at my first school disco and practising the moves with all my friends.
Any other Eurovision favourites down the years?
My favourite so far is definitely Loreen's Euphoria [which won in 2012]. I think that's incredible and her performance was immense.
How did you go about writing your track - what are the components you need in a Eurovision song?
Eurovision's a massive show. It's about the live performance. It's got to have some drama, you've got to get that arena to feel what you're singing about and hopefully get them on their feet or inspired somehow.
It needed to be a big concept. It can't just be a nice song, it's got to be a little bit anthemic. So I came up with six or seven ideas in the space of 48 hours and this one just stood out.
Is it all your composition or have you had co-writers?
All the top line and vocal part is mine and then I've worked with a producer called Anders Hansson, so he's put the string arrangement in there and things like that. It's a 26-piece string orchestra on the track.
What reaction have you had since you were announced as the UK entrant?
I'm trying not to look at it too much because it can be unhealthy, but my Facebook and Twitter have gone mad. I'm overwhelmed at how positive it's been. You've got a few negative ones - you've always got to expect that. But the majority has been so positive, and from all around the world. That's what's been really surprising.
Any UK entrant would face an uphill battle to break down some of the historical baggage and political voting. How do you feel about the task ahead?
I feel, maybe naively, optimistic. I really believe music is something that breaks down political barriers. I think good music breaks through. Maybe I'm totally naive, but that's why I've spent the past few years being skint, perfecting my craft, gigging in small venues. It should be about the music.
It might not be everyone's cup of tea but hopefully people will respect it. I'd like to think that whatever song wins is because of the song. I'd like it to be mine, but we'll just have to see.