Historian Mary Beard bemoans screen quota for women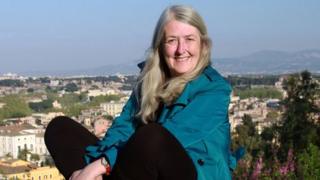 Historian Mary Beard has said that having a panel show quota for women will lead to them being "vilified" in reviews.
The broadcaster, writing in the Radio Times, said that older women on screen were singled out for their "glaring eccentricity and deficient grooming".
Female radio broadcasters, she added, "tend to have unusually deep voices".
BBC director of television Danny Cohen recently said there would no longer be any all-male panel shows.
Comedian and Mock the Week host Dara O Briain subsequently criticised the move, saying that "legislating for a token woman isn't much help".
He added that he had lobbied for more female comics on the show, but had objected to it being announced as a policy.
Cambridge professor Beard, who wrote and presented a BBC Two programme about the Roman emperor Caligula last year, said that quotas "do not get to the root of the problem".
"The fact is that even now authority still seems to reside with the men in suits, and their deep voices; and those are the types we still assume we'll see when we're looking for words of wisdom on TV," she wrote in the Radio Times' Viewpoint column.
Beard added that it was up to viewers to change the landscape, saying the "gender gap" would finally be "bridged... when almost every viewer in the land would simply think that it looked very weird... to have a panel made up of four blokes".
Mary Beard presents Oh Do Shut Up Dear, a programme about the role of women in public debate, on BBC Four on 16 March.