Liam Neeson's Non-Stop flies to top of US box office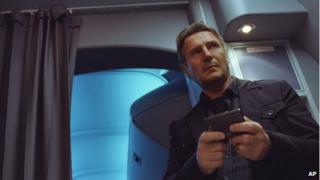 Liam Neeson's latest thriller Non-Stop, in which he plays a federal air marshal, has landed at the top of the North American box office chart.
Neeson's character must stop a string of murders on an international flight.
The film took $30m (£18m) at US and Canadian cinemas between Friday and Sunday, according to studio estimates.
Son of God took £26.5m (£16m) to reach second place. The film is adapted from the History Channel's mini-series The Bible, about the life of Jesus.
The film, which surpassed box office predictions, stars Portuguese actor Diogo Morgado as Jesus and was made by reality TV producer Mark Burnett.
The success of Non-Stop and Son of God pushed The Lego Movie down to third place after three weeks in the top spot.
The toy franchise spin-off made $21m (£12.5m) over the weekend, taking its North American box office total to $209m (£125m).
George Clooney's World War II drama The Monuments Men was a distant fourth, earning $5m (£3m).
It was followed by 3 Days to Kill, in which Kevin Costner plays an over-the-hill international spy, which took $4.9m (£2.9m).