Oscars 2014: In quotes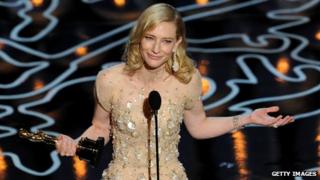 This year's Oscars have been handed out in Los Angeles. Here is a selection of the night's best quotes from the acceptance speeches, backstage and on the red carpet.
Host Ellen DeGeneres
"Meryl has been nominated for an Oscar a total of 18 times... That's hundreds of thousands of dollars. Simply put, Meryl cannot afford to be nominated again."
To Jennifer Lawrence, who tripped as she arrived on this year's red carpet and fell up the steps when collecting her Oscar last year: "If you win tonight I think we should bring you the Oscar."
"It's going to be an exciting night. Anything can happen, so many different possibilities. Possibility number one, 12 Years a Slave wins best picture. Possibility number two, you're all racists."
"I'm not going to say who looks the most beautiful. But it's clear, it's Jared Leto. He looks the prettiest. And Mathew McConaughey - a different, rugged, dirty pretty."
"Here's a man, he needs no introduction. But if I don't, he'll never know when to come out. Please welcome Brad Pitt."
To Liza Minnelli: "One of the most amazing Liza Minnelli impersonators I have ever seen in my life. Good job, sir."
Jared Leto
"In 1971 Louisiana, there was a teenage girl who was pregnant with her second child. She was a high school dropout and a single mum but somehow she managed to make a better life for herself and her children... That girl is my mother and she's here tonight and I just want to say I love you mum and thank you for teaching me to dream."
To people in Ukraine and Venezuela: "We are here and as you struggle to make your dreams happen, to live the impossible, we're thinking of you."
To reporters backstage: "I am going to be celebrating to the break of dawn, look me in the eyes and see I will revel tonight."
Lupita Nyong'o
"It doesn't escape me for one moment that such joy in my life is thanks to so much pain in someone else's. So I want to salute the spirit of Patsey for her guidance."
To director Steve McQueen: "Thank you so much for putting me in this position, it has been the joy of my life. I'm certain that the dead are standing about you and they are watching and they are grateful, and so am I."
To reporters backstage: "I am going to the Governors Ball and doing all things Oscar related, this is my first time here and I feel like Willy Wonka in the chocolate factory."
Robert Lopez
Lopez, co-writer of best song winner Let It Go, is the first Filipino-American to win an Academy Award. With his win he became an "Egot" - the winner of an Emmy, a Grammy, an Oscar and a Tony.
"Filipino pride. I'm so excited, I'm just sending love to the Philippines. I know they've had a tough year and I just send out my feelings to them."
Cate Blanchett
Talking about her role in Blue Jasmine on the red carpet: "For me it was a part to swing your cat in, it was a gift."
Paying tribute to her fellow nominee Dame Judi Dench: "I mean, what a career. She's not here tonight because at the age of 79, her film was so successful that she's in India doing a sequel. I mean, what a career that is, if I could hope."
"Those of us in the industry who were still foolishly clinging to the idea that female films - with women at the centre - are niche experiences, they are not. Audiences want to see them and in fact, they earn money. The world is round people!"
Matthew McConaughey
"First off, I want to thank God, because that's who I look up to. He's graced my life with opportunities that I know are not of my hand or any other human hand. He has shown me that it's a scientific fact that gratitude reciprocates."
Tim Webber
British-born Webber is part of the team behind Gravity's Oscar-winning visual effects.
"It felt like we were creating a movie using visual effects rather than putting visual effects into a movie. I feel a great sense of pride at so much of it.
"It's lovely to see Alfonso winning an award for best director because he was an incredibly inspirational person to work with."
Alfonso Cuaron
"Like any other human endeavour making a film can be a transformative experience. It's good because it took so long, it has not been a waste of time.
"What really sucks is that for a lot of those people the transformation was wisdom. For me it was the colour of my hair."
Steve McQueen
"Everyone deserves not just to survive, but to live. This is the most important legacy of Solomon Northup. I dedicate this award to everyone who has endured slavery and the 21 million people who still endure slavery today."
Brad Pitt
Pitt was one of the producers of 12 Years a Slave and also had a role in this year's best picture winner.
"We just hope this film remains a gentle reminder that we are all equal. We all want the same. We want dignity and opportunity for ourselves and our family, and that another's freedom is every bit as important as our own."
Jennifer Lawrence
On tripping up on the red carpet: "They put a cone right outside my car and I fell on the cone. And I have a goose egg and it really hurts. It's okay, I've got them all over myself."
Catherine Martin
On winning the first of her two Oscars for The Great Gatsby: "I do have a few words tucked into my bra. It's a very Australian thing to do. It's where you put your tissues."