Oscars: VFX protest takes place ahead of ceremony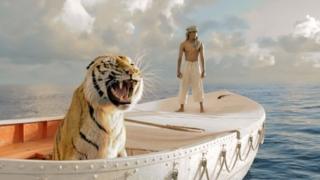 Hundreds of visual-effects artists held a protest in Hollywood ahead of the Oscars on Sunday.
The protest is over subsidies that enable VFX companies outside the US to price American companies out of the market.
Protest organisers in California say they cannot compete and that work is going to Canada, Australia, the UK and New Zealand.
Organisers said they are fighting to save the industry in the US.
"It is massively injuring the industry here which is why so many people are coming out because they are losing their jobs," said protest organiser, Daniel Lay, who writes about the industry for the blog VFX Soldier.
Last year there were protests outside the Oscars from visual effects workers who were disgruntled after the VFX company Rhythm & Hues, which worked on the effects for Life of Pi, filed for bankruptcy.
Lay, a Hollywood visual-effects artist, told the BBC that this year's protest was to help spread word about legal efforts to end subsidies.
"Governments are competing to take work offered by the US studios and have it done in the region where the tax payer will pay a huge percentage," he said.
"Usually this happens with goods - when you import goods into the US we place duty or tariff on it to level the playing field.
'Tough industry'
"You essentially have a trade war occurring and one of the ways to remedy this is a duty system which would level the playing field quite quickly."
The Motion Picture Association of America, which represents the studios, told America's National Public Radio that digital artistry was a service that was not protected by trade agreements, so they can send their work any place they want.
"It's a tough industry and various aspects of it make it move from country to country which can cause problems," Tim Webber, the Oscar-nominated VFX supervisor on space epic Gravity, told the BBC earlier this week.
"When ebb and flow of the work goes from one place to another it can make life very difficult for people.
"And that's in an industry that's tough even when you're having the good times. Companies are struggling all the time. From a business side it's not an easy industry to be in."