Oscars: Brits in Hollywood gather to celebrate UK film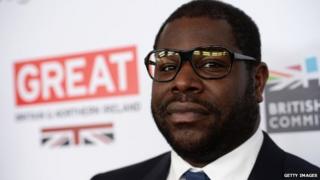 Most of Britain's Oscar nominees gathered in rain-hit Los Angeles on Friday to celebrate British film achievements ahead of Sunday's Academy Awards.
"We've got 26 British nominations in 18 films - it's an amazing achievement for Britain and the industry," said Steve McQueen, director of 12 Years a Slave.
His historical drama, starring Chiwetel Ejiofor, is up for nine Oscars, and is the favourite to win best picture.
Among the stars attending were Dame Helen Mirren and Sally Hawkins, who is Oscar-nominated for her role in Woody Allen's Blue Jasmine.
Other guests included the actresses Jacqueline Bisset and Jane Seymour.
The Great British Film event was held at the home of the British Consul General Chris O'Connor, who said: "The UK consistently features as the country with the most nominations outside of the US, and this year is no exception, with our world-class nominees in everything from acting and directing to music, animation and visual effects."
'Amazing year'
A large marquee in his front garden protected guests from the heavy rainstorms that hit California this weekend.
The worst of the bad weather is expected to be over before the Oscars.
"It's been an amazing year for film, it's a particularly good year for actors and actresses and for films in general," Dame Helen told the BBC.
"I'm supporting 12 Years a Slave because I think is a very important film and I would love it to get at least one Oscar."
Among the nominated films with British involvement are: Captain Phillips, Gravity, Iron Man 3, Karama Has No Walls, Mandela: Long Walk to Freedom, Philomena, Prisoners, Room on the Broom, The Act of Killing; The Invisible Woman, The Lady in Number 6: Music Saved My Life, and The Voorman Problem.
It is estimated that the film industry generated $1.4bn of inward investment from the US into the UK in 2013.
McQueen admitted he was feeling nervous ahead of the Oscars ceremony.
"It's one of those where you have to force yourself to enjoy it and not take it too seriously," he said.