Donmar's Versailles mixes public and private lives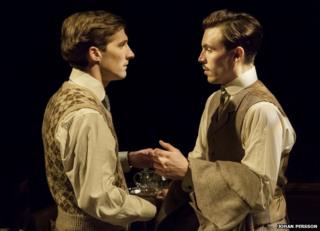 A three-hour play based around the peace conference which followed World War One might seem to threaten a dry history lesson on stage. But in Versailles, at the Donmar Warehouse, playwright Peter Gill allows the main characters' private lives to take centre stage.
At 74, Gill has been writing and directing for almost half a century. He's held major positions at the Royal Court and Riverside Studios in London and 30 years ago he founded the National Theatre Studio.
He's quietly become a grand old man of British theatre. But Gill says the process of writing is still essentially a mystery to him.
"Some writers say they know in detail where their plays are going all along. I don't. So I can't really explain why I knew that two-thirds of this play had to be set in Kent.
"I've only really been to Kent once. I just knew it's where the family in the play had to live.
"Also when I started I had no idea there would be a romance between Leonard Rawlinson (an idealistic young British economist) and his friend Gerald (an army officer with rather fewer inhibitions). The relationship just emerged."
Theatrically daring
The friendship between Leonard and Gerald is by modern standards more theatrically daring than it sounds: Gerald has died in the war and exists only in Leonard's mind.
Gill, who is director as well as author, stages Gerald's first appearance to the accompaniment of a flickering light bulb. It's the kind of stagecraft you might find in an old JB Priestley play.
Even more so, in its concern with Britain's middle-class and its morality under pressure, Versailles evokes the Edwardian playwright Harley Granville-Barker.
The Donmar has even given it two intervals - almost unheard of since the 1950s.
Gill says he didn't write the play to mark the centenary of 1914. "It was only when I was half way through that I even realised the anniversary was looming."
Leonard Rawlinson is played by Gwilym Lee, recently starring on ITV in Midsomer Murders.
"I think Peter would be delighted to find his play compared to Granville-Barker. He's not afraid of discussing big social and political themes on stage. It's why his work is such a delight to play."
Versailles shows Lee's character growing increasingly uneasy at the terms of a peace treaty which he feels threatens German economic stability and recovery.
The Cambridge historian David Reynolds says there are clear parallels with the economist John Maynard Keynes, who in 1919 represented the British Treasury at the negotiations.
Reviewing the play for Free Thinking on BBC Radio 3 he said Keynes's disappointment with the Versailles Treaty is not universally accepted.
"Keynes's view came over very strongly in the play. I didn't find it very persuasive and it's now much argued about by historians."
Passionate friendship
But David Reynolds also said he found elements of the play moving.
If the ghost of Keynes haunts the play, the central relationship seems also to echo the passionate friendship between the poets Siegfried Sassoon and Wilfred Owen.
Peter Gill ensures that physically, actor Tom Hughes resembles Owen .
Hughes is rapidly becoming a screen star: he's soon to be seen in the Cold War adventure The Game for the BBC. But he says he's been desperate to work at the Donmar for a long time.
"It's almost four years since I did theatre. But when you're approached by the Donmar you take it seriously: it's an incredible space.
"For me there are three bullet points: do I want to work for the director? Do I think the writing's good? Do I want to play the part?
"In this case it was yes to all those questions. And I know the Donmar will push me to be a better actor."
Meaty roles for women
Leonard's sister is played by Tamla Kari. She has been doing a lot of TV too, including the BBC's Cuckoo and currently The Musketeers.
But she says she's delighted to be in a stage play which gives meaty roles to women.
"Mabel is a young woman in a period of change: she is fighting the norms which her mother represents.
"She wants to experience life. And as a writer Peter really understands women. He gets women and likes women.
"It's actually pretty rare for male writers to write women well. So if you're offered a part like this you jump at it."
Francesca Annis plays the Rawlinson family matriarch. "Believe me if I was offered scripts this good all the time I would be doing them - but they're hard to find.
"Peter writes about all aspects of society. Yes it was the men who still mainly looked after politics - though that was just beginning to change in 1919.
"You see the difference between the pre-war women and the new women of the 1920s.
"We're not drawing crass parallels with what's happening today - every era is different.
"But the play will make you think not just about what happened in Europe - but also about how significant the end of the war would be for the Middle East."
Gwilym Lee believes the play strikes home above all because of its mix of the public and the private.
"It's the relationship between Leonard and Gerald which most obviously makes it a modern play. Tom and I have never labelled Gerald a ghost: he's something intrinsic to Leonard, who lost the person he loved most.
"When he's in a crisis Leonard discusses things with Gerald.
"We never really discover how far their relationship went before Gerald was killed. The script and the direction leave the question open: that uncertainty makes the story even more tragic."