British Museum's Vikings exhibition to be screened in cinemas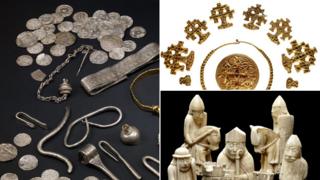 A live show offering a guided tour of the British Museum's major Vikings exhibition is to be screened in cinemas, it has been announced.
The event, on 24 April, will give a close-up view of Norse treasures featuring in the display, which opens on 6 March in London.
Vikings Live will include a torch-lit ship burial in the museum's forecourt.
The worldwide screening follows last year's Pompeii Live, which took £471,000 at the UK box office alone.
The one-off event, focusing on the museum's exhibition about the volcano-stricken Roman city, made number 10 in the weekly film chart.
British Museum director Neil MacGregor said the Vikings event would build on that success, going to 380 UK cinemas and some 50 countries around the world.
"We're going to reach an even larger public," he said, adding the "worldwide opportunity to see what goes on here through cinema is very important".
He said the guided tour, which will feature television historians Michael Wood and Bettany Hughes, would allow viewers to get "very, very close to the objects" on display, "possibly closer than you can in the exhibition itself".
Hughes, whose well-known programmes include Britain's Secret Treasures, was involved in the Pompeii Live broadcast, and said there had been a "tsunami of support" from viewers.
"I cannot understand a people and their past unless I can get up close and personal to the objects and the art they created.
"The brilliant thing about these live private views is that the public can have these inspirational, intimate and privileged experiences," said the historian.
There will also be a separate, pre-recorded, show aimed at children, called Viking Adventures, which will be screened on 5 June and fronted by CBBC presenter Ed Petrie.
The exhibition, which is the British Museum's first major Vikings display for 30 years, features a treasure trove of gold and silver items, from intricately-wrought jewels to hoards of coins.
Its impressive centrepiece is a 37-foot warship, whose wooden remains are cradled in a metal housing.
Known as Roskilde 6, it was excavated from the banks of Roskilde fjord in Denmark in 1997, and is the longest Viking craft ever discovered.
While the exhibition deals with the Vikings' history of marauding and warfare, it also sheds light on a more peaceable, civilised side to a people who explored the world.
It tells of how they exchanged ideas and culture with other nations and played board games.
The exhibition's creator, Gareth Williams, said: "It's a chance to say something a bit different and a bit new about the Vikings."
Michael Wood added there were many "wonderful tales and wonderful myths" to be busted about the Vikings, who did not wear horned helmets, as so often depicted.
He added that their invasions of Britain formed its present nations and "changed the political landscape".
The broadcaster added that the exhibition offered an "incredible collection of material which will never be gathered together in once place again".
Vikings: Life and Legend is due to run from 6 March to 22 June.