Agatha Christie dramas planned to mark anniversary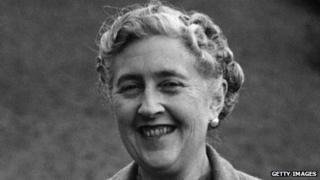 Agatha Christie's most successful book and two of her lesser-known sleuths are to be brought to the screen as part of a series of BBC programmes marking the 125th anniversary of her birth.
And Then There Were None, the author's most-read book, is to be adapted by Sarah Phelps into a three-part drama.
David Walliams, meanwhile, will play one half of a married detective duo in six-part series Partners in Crime.
A series of documentaries about the British crime writer are also planned.
Ben Stephenson, the corporation's drama commissioning controller, said he was "delighted that the great British institution that is the BBC" was entering a "long-term relationship" with such a "brilliantly British" author.
Born in 1890, Christie is best known as the creator of Hercule Poirot and Miss Marple and the author of West End play The Mousetrap.
The new dramas follow the conclusion of ITV's long-running Poirot series, which saw David Suchet portray the legendary Belgian detective.
Though less well known, the husband-and-wife duo Tommy and Tuppence Beresford also appeared on ITV in feature-length 1983 drama The Secret Adversary.
Francesca Annis and James Warwick played the couple on that occasion, going on to reprise their roles in 1983 series Partners in Crime.
Christie's Tommy and Tuppence books went on to spawn a trio of French films, starring Andre Dussollier and Catherine Frot, that renamed the characters Belisaire and Prudence.
It is not yet known who will play Tuppence to Walliams's Tommy in the latest adaptation of their crime-solving adventures.
"In bringing these thrilling stories to the screen, it is our ambition for Tommy and Tuppence to finally take their rightful place alongside Poirot and Marple as iconic Agatha Christie characters," said the 42-year-old.
"I was first drawn to the delicious notion of a married couple solving crimes together, and the more I read of the Tommy and Tuppence novels and short stories I realised they are among Christie's very best work."
And Then There Were None was the US title for a 1939 mystery that was originally published in the UK under a different title derived from a traditional nursery rhyme.
The novel, about 10 strangers marooned on an island who are killed off one by one, was Christie's most popular novel, selling more than 100 million copies worldwide.
Phelps is known for her work on BBC soap EastEnders and her TV adaptations of the Charles Dickens novels Oliver Twist and Great Expectations.
Little Britain star Walliams was recently seen in BBC One comedy Big Train and on the West End stage in Shakespeare's A Midsummer Night's Dream.
Mathew Prichard, Christie's grandson, said it was "fantastic" to have the author "welcomed with such enthusiasm... in her all-important 125th anniversary year."