Profile: Breakfast TV's Susanna Reid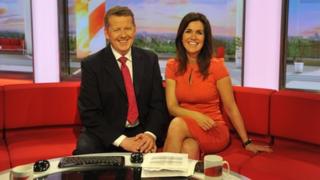 Millions of viewers have been waking up with Susanna Reid on BBC One's Breakfast for more than a decade. Now she is swapping sofas to join rival ITV.
Reid joined the BBC's morning show as a regular presenter in 2003 and became part of the its first-choice line-up with Bill Turnbull in 2012.
During that time, the three-hour live programme has required her to tackle the full spectrum of stories, from interviewing prime ministers to reporting from the Oscars red carpet.
In January 2013, she was the runaway winner in an online Radio Times poll to find the most popular breakfast TV presenter of all time.
Her profile rose further as she won over fans on the way to the Strictly Come Dancing final in winter 2013. ITV will no doubt hope that her glamorous and playful image will help the ratings of her new show.
Born in Croydon, south London, Reid went to school with Great British Bake Off host Sue Perkins, who once played her mother in a school production of The Crucible.
Reid's aspirations as an actress continued as she appeared on stage with Shirley-Anne Field and on TV in Channel 4's Bafta-nominated mid-1980s drama The Price at the age of 13.
"I loved acting but I didn't pursue it because so few actors succeed," she said.
Big break
Instead she studied politics and philosophy at Bristol University. There she became the first female editor of the student newspaper before gaining a post-graduate diploma in journalism from Cardiff School of Journalism.
After a stint at BBC Radio Bristol, she joined Radio 5 live as a producer and reporter before moving to BBC News 24.
Her big break came unexpectedly. As she finished a shift on the rolling news channel, Reid was about to go home when she was told a presenter had failed to turn up and she would have to fill in.
A move to Breakfast followed, presenting at weekends until she replaced Sian Williams during the main weekday slots when the programme moved to Salford in 2012.
Asked about the job's early starts, she once said: "It doesn't feel that much of a wrench, because I started this job after I'd had my first baby. So it felt perfectly natural to be getting out of bed at all times of night. This is just another breastfeed."
While she was working in Salford, her partner, the former BBC sports correspondent Dominic Cotton, remained in London with their three sons.
On her work days Reid would travel from London to Salford the night before a programme and then go back to the capital straight after the show, working on the train during her three-and-a-half hour commute.
She would then return to Salford later that night, to prepare for the following day's show.
"The thing about my work is I am in an amazing, brilliant part-time job," she said. "Every single day I see my children, I pick them up, help with their homework and I cook their tea.
"That is something lots of working parents don't have the luxury of doing."
It was announced on 28 February that she had split from Cotton. A statement from her agent said: "Susanna Reid and Dominic Cotton have agreed to separate but remain good friends. The welfare of their children remains paramount for both of them at this time."
'Thick skin'
On air, she has occasionally been accused of flirting with celebrity interviewees like Arctic Monkeys singer Alex Turner and actor Hugh Grant.
After complaints that she showed too much cleavage when interviewing Grant, she responded: "I'm always sorry when people don't like what we do, but I have come to accept that you can't please all the people all of the time."
A fan of Twitter, she claims to have "an enormously thick skin" when it comes to what people say about her online. "I take on board what I think is useful and ignore the rest," she said.
That thick skin came in useful when her attention was brought to fake online pictures of her in a state of undress.
"There is a picture of a lovely woman on the internet and somebody has put my head on her body," she said. "I feel sorry for her, she has probably got a perfectly serviceable head of her own."
As well as presenting BBC Breakfast, Reid hosted the religious programme Sunday Morning Live from 2010 to 2011 and was among the stand-in hosts on Andrew Marr's Sunday morning politics show in 2013 after the presenter had a stroke.
She also helped judge the Orange Prize For Fiction in 2011 and ran the London Marathon the following year.
Beating her former friends and colleagues in the breakfast TV ratings war will now be her biggest challenge yet.