Die Hard director John McTiernan released from jail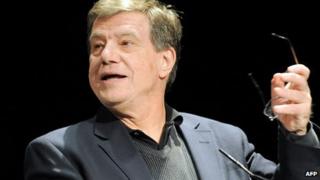 Die Hard and Predator director John McTiernan has been released from prison in South Dakota after being convicted of lying to the FBI.
The 63-year-old spent 328 days behind bars after pleading guilty to making false statements during investigations into celebrity private detective Anthony Pellicano.
McTiernan's wife Gail said he had returned to his home in Wyoming, where he is under house arrest until 3 April.
He plans to appeal his conviction.
A spokeswoman for the director said he was filing a complaint with the Justice Department Office of Professional Responsibility to have his conviction reversed and erased, saying McTiernan believes he was treated unfairly.
His lawyer Hank Hockeimer said his client had been in prison "not only for a crime he did not commit, but for conduct that simply is not a crime".
"McTiernan, though incarcerated, has never been given proof of any evidence the government alleged to have against him."
Appeals
The director pleaded guilty in 2006 to hiring Pellicano to wiretap film producer Charles Roven after they worked on the 2002 movie Rollerball, and then lying to FBI agents about it.
Shortly after, he sought to reverse the plea, claiming he was drunk and jetlagged, but he was sentenced to four months in jail and fined $100,000 ($60,000).
In 2008, an appeals court allowed his not guilty plea and quashed the fine, however he was charged on federal offences a year later.
He was convicted and sentenced to one year in prison in October 2010, but stayed free until last year pending appeals in the case.
Announcing the news of her husband's release on the Free John McTiernan Facebook page, Gail thanked supporters, adding: "I will keep you posted on how things are going and, after we've had some time to get home and adjusted, John will be able to do that himself."
"I'm obviously ecstatic," she continued, "but I must tell you that my husband has been so shocked by what he's learned from this experience that being in or out of prison seems to him almost irrelevant."
The director has already signed to direct a police action movie, Red Squad according to industry newspaper Variety.
Pellicano was convicted of 78 crimes at two separate trials in 2008 for obtaining the private records of a number of Hollywood stars including Sylvester Stallone.
He is currently serving a 15-year prison sentence for racketeering, conspiracy and wiretapping.