Liverpool Everyman reopens after £27m redevelopment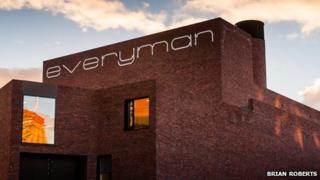 The Liverpool Everyman theatre is reopening this weekend after being rebuilt at a cost of £27m.
The Everyman became famous in the 1970s for launching the careers of actors like Bill Nighy, Julie Walters, Pete Postlethwaite and Sir Anthony Sher.
There will be a lighting-up parade on Saturday and an open day on Sunday.
Its rebirth comes as Liverpool City Council plans to cut its culture budget by 50% by 2017, although the council said the Everyman would be protected.
The theatre has been shut since 2011, when the rebuilding work started.
The first production on the new stage will be Shakespeare's Twelfth Night starring Matthew Kelly and Nicholas Woodeson, which opens on 8 March.
Kelly and Woodeson are returning 40 years after being part of the illustrious Everyman company of the mid-1970s.
The talent at that time also included actors Bernard Hill, Jonathan Pryce, Alison Steadman and Trevor Eve, writers Alan Bleasdale and Willy Russell, singer Barbara Dickson and poets Roger McGough and Adrian Mitchell.
The theatre was also known for putting the city's social and political struggles of the 1970s and '80s on the stage.
Its reopening comes just days before Liverpool City Council votes on a budget that includes a plan to cut its total culture spending by half over the next three years.
All non-statutory services, which also include leisure centres and regeneration, will be cut by 50%, while core services like adults social care, environmental health and refuse collection, must find 25% savings.
Liverpool Mayor Joe Anderson has said the council had to make "some really tough decisions".
The council said direct grants to arts organisations like the Everyman and its sister venue the Playhouse would be limited.
The Everyman and Playhouse have already had their council grant cut by almost 20% since 2010/11, the last full financial year before the Everyman shut for redevelopment.
The two venues received £846,000 from the city council in 2010/11. That will drop to £688,000 for 2014/15 and 2015/16.
After that, the council said it would introduce a new public-private funding system. The details and sources of private funding have yet to be worked out.
Everyman and Playhouse artistic director Gemma Bodinetz said the council cuts were "a huge worry". But she added that the council "absolutely understand the value of culture" after the city was European Capital of Culture in 2008.
The new Everyman, designed by architects Haworth Tompkins, is intended to help the theatre generate more funds for itself, Ms Bodinetz said.
"We had no alternative sources of raising money in the old Everyman.
"One of the things we've tried to do in the new building is find rooms that we can hire, we have our own restaurants now, so we're looking continually for ways we can raise money above and beyond subsidy."
Asked whether she would be able to afford to put on plays that would do the new building justice, she replied: "Of course, I don't have a choice, do I?
"Basically what you need is some actors and some lighting. It is almost Shakespearean in its simplicity. It requires energy, lifeblood and passion, and that was always the Everyman."