Let the Right One In to re-open Apollo theatre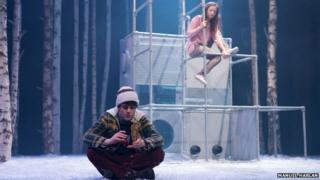 The National Theatre of Scotland's hit play Let the Right One In will re-open the West End's Apollo theatre, which closed following a ceiling collapse last year.
The production will run from 26 March until 27 September.
The Apollo has been closed since 19 December after plasterwork from the ornate ceiling fell on to the audience injuring nearly 80 people.
An investigation, by Westminster City Council, into the incident is ongoing.
The collapse happened during a performance of The Curious Incident of the Dog in the Night-Time, which is moving to the Gielgud theatre and will resume on 24 June.
Let the Right One In opened at the Royal Court Theatre in London at the end of last year.
It had its world premiere at Dundee Rep in June.
Gory scenes
Directed by John Tiffany and adapted by Jack Thorne, the play is based on the Swedish novel and cult-hit film by John Ajvide Lindqvist.
It tells the story of the relationship between Oskar, a lonely bullied schoolboy, played by Martin Quinn, and Eli (Rebecca Benson), a centuries-old vampire who befriends him.
Benson and Quinn will reprise their critically acclaimed leading roles in the thriller drama. Other cast members include Graeme Dalling, Angus Miller, Cristian Ortega and Susan Vidler.
Described as being "for adults and fearless teens aged 13+", the play contains many gory scenes.
The production won the theatre prize at this year's South Bank Awards.
It will mark the first time that a National Theatre of Scotland production has played in the West End.