Lego Movie blocks out US box office rivals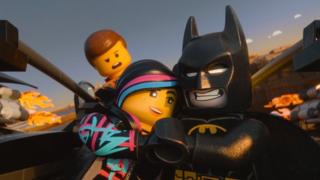 The Lego Movie is still towering over its rivals on the North American box office chart, after spending a third week at number one.
The film earned $31.5m (£18.9m) over the weekend, according to early estimates.
Kevin Costner crime drama 3 Days to Kill debuted in second place with $12.3m (£7.3m).
A sequel of the Lego Movie has just been announced, with a release date set for May 2017.
The Lego Movie is the highest-grossing film of the year so far.
"It's been really tough for any of the newcomers to displace Lego," said Paul Dergarabedian, senior media analyst for box-office tracker Rentrak.
"For Lego to earn $31m (£18.5m) in its third weekend, that would be impressive in its first weekend for any film in the first quarter."
Gladiator drama Pompeii, starring Game of Thrones actor Kit Harington, took third place with $10m (£5.9m), despite a mauling from many film critics.
The RoboCop reboot dropped from third to fourth place in its second week of release, taking $9.4m (£5.6m) while George Clooney's war movie, The Monuments Men, also dropped a place, from fourth to fifth.
Two Kevin Hart movies, About Last Night and Ride Along, took sixth and seventh place respectively.
Ride Along has also secured a sequel off the back of the first film's successful run.
Next week's releases include Liam Neeson's Non-Stop, which stars Lupita Nyong'o - she is up for a best supporting actress Oscar for 12 Years A Slave.
Meanwhile, according to a Reuters/Ipsos poll, only a third of Americans have seen any of the films nominated for best picture at this year's Academy Awards.
The poll questioned 1,433 Americans in an online survey - Somali piracy film Captain Phillips was the most watched by 15% of those questioned.
Gravity was second with 14% followed, on 12%, by both American Hustle and The Wolf of Wall Street.
A total of 67% of those surveyed said they had yet to see any of the 11 films in the poll.
The Academy Awards will be hosted by comedian Ellen DeGeneres on 2 March.