Binned artwork claims 'exaggerated'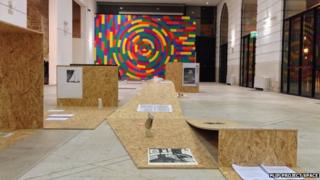 The curator of an exhibition in Italy where artwork was unwittingly thrown away by a cleaner has said claims surrounding the incident are false.
It was reported last week works made of newspaper and cardboard were binned after they were mistaken for rubbish at the show at Sala Murat in Bari.
However curator Ala Roushan denied the claim, saying the pieces had yet to be unpacked from cardboard boxes.
"The actual work was not seen by the cleaning lady," she told the BBC.
"There were a few artworks sitting alongside the exhibition space to be installed the morning of the exhibition.
"It's false the work was made of newspaper and cardboard - [it] was only packed in cardboard and there was a vinyl piece that was rolled [inside].
"The cleaning lady thought she was throwing away cardboard and disposed of it."
Ms Roushan criticised media coverage of the incident, saying she and co-curator Federico Del Vecchio of Flip Project Space had been shocked by the reports, which had "swirled out of control".
"The media attention has now become completely irrelevant and exaggerated in relation to the event itself," she said.
"The loss is minimal in comparison to the scale of our exhibition - which included the work of 59 artists, writers and curators - the majority of which were unharmed.
She added: "It has also become an opportunity for some people to express their criticism toward contemporary art - that contemporary art has become unrecognisable to the point of seeming like garbage."
Ms Roushan would not confirm which pieces were thrown out, adding she was currently in talks with the affected artists and their galleries.
The artworks were estimated to be worth around 10,000 euros (£8,200).
Chiarissima, the cleaning company hired by Sala Murat, said its insurance would cover the loss.