Nina Nesbitt: 'I'm a people-watcher'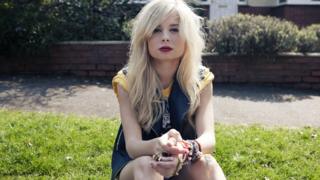 Folk-pop singer Nina Nesbitt is just nineteen, but she displays a wisdom beyond her years.
Born in Balerno, near Edinburgh, to a Scottish father and Swedish mother, she only picked up her first guitar in 2010, but almost instantly discovered a knack for witty, sharply-observed songs about teenage life.
"He's got a Rolling Stones tee, but he only knows one song," she sang about her contemporaries on last year's Stay Out. "They think they're from the 60s, but they were born in 1991."
Her latest single, Selfie, tackles her generation's Instagram obsession, skewering their "look-at-me-I'm-so-lonely" snapshots without being preachy or pompous.
Nina's big break came when her early YouTube cover versions were endorsed by Example and Ed Sheeran, who asked her to star in the video for his single, Drunk.
After paying her dues on the touring circuit, she released her debut album Peroxide earlier this week.
As the most pre-ordered record in the history of her record label Island (home to U2, Amy Winehouse and Bob Marley), it looks poised to enter the top five this Sunday.
She spoke to the BBC about her school days, music industry woes and why she doesn't mind people downloading her album illegally.
Hello, Nina! Like so many new singers, you started out by posting cover versions on YouTube. How did you ensure yours stood out?
I'm not really sure how things go viral, but mine was a very sloth-like growth!
I think it's good to do something different. We filmed out in the forest or on a boat in the reservoir in Balerno. If you're doing what everyone else is doing, it's boring.
I've heard you can play guitar, piano and the flute - but what was the first one you picked up?
My first instrument was the keyboard, when I was about 10 or 11. I just plonked away on that until I learned the flute, which I did for exams and stuff. Then I picked up a guitar at 15 and discovered electric guitar about a year-and-a-half ago.
Is that why your early EPs sound so different to the album?
Yeah, I got a bit bored of the whole singer-songwriter scene. There were so many other people coming up doing the same thing, and I always loved that feisty, female attitude, so I felt the electric guitar would be a great instrument to add to the set, and I just fell in love with that vibe and put it on the album.
Were you still at school when you started touring?
I was a really good pupil until the age of about 15, then I just lost my interest in it. Everything I was learning felt irrelevant to what I wanted to end up doing. So I just dived into my music. I actually left school a year early to pursue it.
Is it strange to leave your friends behind like that?
It was quite weird. I'd be on tour and they were still in the classroom. I'd go back at the weekend and they'd still be talking about what the teachers had been saying and doing. But it was nice having that normality at home.
Now they're scattered across the country at uni, which is nice when I'm touring, because I get to see them. They seem to have a lot of parties, but the food is all off date and it gets quite messy!
On the album, you sing "when I was 16, I thought I knew it all". Were you quite precocious?
I broke into the music industry when I was 16 and I thought I knew how it all worked but I kind of got slapped in the face by it all. I came from a small village outside Edinburgh, I was a very trusting person, and I think now I'm a lot more guarded.
So what happened? Was it dodgy contracts and bad management?
It was more that I'd been promised gigs I've always dreamed of playing, and then they were cancelled at the last minute. You have to take everything with a pinch of salt until it happens. It doesn't stop me being ambitious. In fact, it makes me more determined.
The reviews for the album have been almost universally positive.
Thank you! It's really cool. I didn't expect good reviews at all.
Why not?
People pick on me because I don't have a new sound. I'm a singer-songwriter, so they've heard stuff like me before. But the good reviews make a difference.
A lot of people have praised the observations in your lyrics. Would it be fair to suggest you're a people watcher?
It's funny you say that because all of my friends say that! When we go out to the pub and they're up dancing, I like to just sit and watch people.
Do your friends ever worry their nights out will end up as lyrics?
Well, they are actually material for some of my songs! Like We'll Be Back For More is about me and my friends at school together and what we got up to.
What about the song Mr C? Is the line "I caught you tongue-tied with that bitch" about a real person?
Not really, to be honest. It's just about the standard guy in a club who thinks by flashing his cash you'll fancy him - but all you really want is a free drink!
The title track is called Peroxide, but it's not about being a bottle blonde...
Yeah, everyone thinks it's about the hair! But actually the album is mostly about a relationship I was in, and the double-sided aspect of that. It can either be really good or it can be really bad.
And the song is about the bad bits, right? There's a line about the sting of "peroxide in your eyes".
Yeah, break-ups are sore, so I wanted to get a really strong imagery to represent that.
Let's talk about Selfies. I can't get that song out of my head.
It's really annoying, isn't it?
That's the job of a pop song, though.
Well, I'm angry with myself!
Where did the idea for the lyrics come from?
I was on tour in October and we were talking about how people have started taking selfies and living through a fake persona online. And when people are feeling low they often post pictures and seek assurance that they're alright. I thought it'd be a funny topic for a modern day break-up song.
Last week, you put the entire album up on YouTube - isn't there a danger people won't buy it now?
Maybe, but more people come to my gigs than buy the records. So if the YouTube things gets people to come to the gigs and they like the music, that's fine.
Is that where you make your living, then?
I prefer touring to recording and I think, at some point, people will get music for free everywhere. There's nothing we can do to stop it.
Obviously I put a lot of hard work into the album, and I'd prefer it if someone bought it. But I shouldn't be angry if they illegally download it, because it means they like the music.
From start to finish, this album took almost three years. Have you got a head start on the follow-up yet?
I have got a lot of stuff that I've not released, but I'll probably scrap it, or put it on EPs because I want to start from scratch on the next record. A new sound. I don't want to do the same thing again.
Nina Nesbitt's album Peroxide is out now on Island Records