Poo books make Diagram Prize shortlist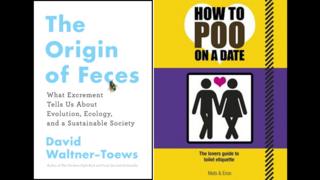 Two books about faeces have made the Diagram Prize shortlist for the oddest book title of the year.
How to Poo on a Date by Mats and Enzo and The Origin of Faeces by David Walter-Toews are among the six books in contention.
Other shortlisted titles include Are Trout South African? and Working Class Cats: The Bodega Cats of New York City.
The Bookseller, which runs the prize, said the award highlighted the importance of an eye-catching title.
Pie-ography: Where Pie Meets Biography and How to Pray When You're Pissed at God complete the list.
How to Poo on a Date offers tips on toilet etiquette during romantic encounters while The Origin of Faeces explains how integral excrement is to biodiversity and global ecosystems.
Both books will be hoping to follow on from the success of 2012's Diagram Prize winner, Cooking with Poo - a Thai cookbook written by a Bangkok chef nicknamed Poo, which is Thai for crab.
"This year's shortlist reveals once again that more than other literary awards - which superficially judge books on the content between the covers - The Diagram Prize taps into the zeitgeist," The Bookseller's Tom Tivan said.
"Working Class Cats will appeal to the great mass of people who spend their days watching cat videos on the internet when pretending to work; while the Great British Bake-Off contingent will be thrilled by Pie-ography's inclusion.
"We also have a hard-hitting take on faith and a look at national identity through an animal that is very tasty when sauteed in garlic butter and garnished with lemon and capers.
"And we have two books about poo."
The winner will be chosen by a public vote on The Bookseller's sister site, We Love This Book with the winner announced on 21 March.
Other previous winners of the Diagram Prize, which has been running since 1978, include Bombproof Your Horse (2004), If You Want Closure In Your Relationship, Start With Your Legs (2007), and last year's winner, Goblinproofing One's Chicken Coop.