Iain Banks poems to be published posthumously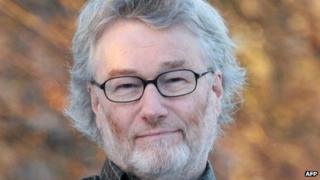 A first collection of poetry by Scottish author Iain Banks will be published in February 2015, a year and a half on from his death last June.
Publisher Little, Brown said the book will also feature poems by his friend, fellow Scottish author Ken Macleod, who will edit the collection.
The Wasp Factory author was 59 when he died, two months after announcing he had terminal gall bladder cancer.
Banks' final novel The Quarry was published 11 days after his death.
An announcement on his website on Sunday said the "much loved and admired author... would have celebrated his 60th birthday today."
It said Little, Brown would publish the new poetry collection next February to coincide with his birth date.
According to The Guardian, Banks had hoped to see his poems in print before his death.
"I'm going to see if I can get a book of poetry published before I kick the bucket," he told the paper last May. "I've got about 50 I'm proud of."
He also revealed he had been trying to involve Macleod in order to make the project "look more respectable".
The author, whose novel The Crow Road was adapted for television in 1996, also enjoyed huge success as a sci-fi writer, publishing under the name Iain M Banks.
In April 2013 he told fans he was "officially Very Poorly" in an online message, saying it was "extremely unlikely" he would "live beyond a year".
The Quarry described the final days of a man with terminal cancer, as seen through the eyes of his son.