The Full English win two BBC Radio 2 Folk awards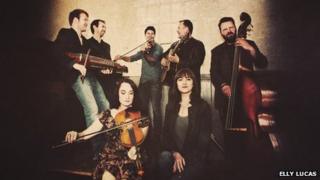 Folk 'supergroup' The Full English have won two BBC Radio 2 Folk Awards, for best group and album, while Bella Hardy has been named folk singer of the year.
The Full English, whose members include Seth Lakeman, Martin Simpson and Fay Hield, also performed at the ceremony at the Royal Albert Hall in London.
Two lifetime achievement prizes were handed out, to Martin Carthy and Irish band Clannad.
The event included a tribute to singer Pete Seeger, who died last month.
US folk singer Peggy Seeger, the singer's half-sister, was joined on stage by a number of artists in a performance of one of his most well-known songs, Quite Early Morning.
The Full English, a project sponsored by the English Folk Dance and Song Society, is a digital archive of early 20th Century folk song collections.
The album has drawn together some of those songs, performed by a group of musicians at the forefront of UK folk music.
Cecil Sharp, credited as the founding father of modern folk music, posthumously entered the Folk Hall of Fame, nearly 90 years after his death.
Phillip Henry and Hannah Martin received the best duo award, while Scots fiddler Aiden O'Rourke was named musician of the year.
Lisa Knapp took home best original song for the track Two Ravens, taken from her album Hidden Seam.
The song, about Alzheimer's disease, features a guest performance from Martin Carthy.
Anais Mitchell and Jefferson Hamer's take on the Scottish ballad Willie of Winsbury was named best traditional track, while the young folk award went to The Mischa Macpherson Trio.
Greg Russell and Ciaran Algar won the Horizon award, given to emerging artists, while the Cambridge Folk Festival won the Good Tradition award for its contribution to the genre's "preservation, dissemination and continuance".
The evening saw Cornish band the Fisherman's Friends perform for the first time since the deaths of band member Trevor Grills and tour manager Paul McMullen last year.
Celebrating their 15th anniversary, the Radio 2 Folk Awards were presented by Mark Radcliffe and folk singer Julie Fowlis.
Bob Shennan, controller of BBC Radio 2, said the awards were "a reflection of just how vibrant the UK folk music scene is".
Highlights from the event are available on the Radio 2 website and can be viewed using the Red Button from 25 to 29 February.