Bollywood exile Nadeem Saifi seeks government apology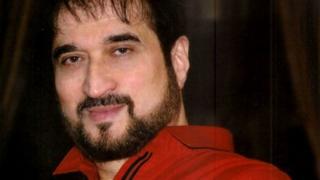 Indian musician Nadeem Saifi, who has been living in exile since being accused of murder in 2000, has demanded an apology from the Indian government.
One of Bollywood's most successful musical directors, he was implicated in the death of his record label manager 16 years ago.
In 2002, a judge ruled the case against him had not been proved, but his arrest warrant has never been withdrawn.
"I don't want to die without getting justice," he told BBC Asian Network.
The musician broke down in tears as he spoke to presenter Bobby Friction, saying: "I don't want my parents to die without hearing that I was innocent.
"My parents are lying ill in their beds, I so much want to see them. I deserve this justice, it's high time now."
Top of the Pops
The 1990s Bollywood music scene was dominated by Nadeem-Shravan, the duo Saifi formed with musical partner Shravan Rathod.
They were famed for their romantic pop melodies in films such as Aashiqi and quickly became the foremost music producers in the industry, responsible for turning the likes of Alka Yagnik and Udit Narayan into household names.
But their dominance came to a sudden end with the 1997 killing of Gulshan Kumar, the then-manager of T-Series, one of India's largest music labels.
Kumar was Saifi and Rathod's patron, the man who gave them their first break, and the man Saifi calls "Papa Ji".
Saifi was on holiday in the UK in 1997 when Kumar was shot dead by assailants outside a temple in suburban Mumbai and soon became a prime suspect in the murder.
Police claimed the businessman was the victim of a conspiracy between Saifi and others.
At the request of the Mumbai police, the Indian government asked for Saifi's extradition.
The musician's legal team maintained that the police's evidence was flawed and, after an extended legal battle, he successfully avoided extradition.
A UK High Court judgement stated that "the accusation of murder and conspiracy made against this applicant is not made in good faith and in the interests of justice".
The verdict was later upheld by the House of Lords after the Indian government appealed.
In 2002, a Mumbai Session Court convicted only one man out of a possible 19 suspects named in Kumar's murder. The judge at the time disregarded the prosecution's suggestion of a wider conspiracy.
Saifi has been using these judgements as proof of his innocence ever since. However, his arrest warrant is still on the books.
He must appear in an Indian court for the warrant to be cancelled but fears he will not get a fair hearing, going so far as to suggest his implication in the murder case was itself a conspiracy.
"It was just an act of jealousy from certain people who thought, 'let's nail this good-looking hunk of a guy,'" he told the BBC.
Asked about the murder, Saifi broke into a tearful song he had composed, demanding India gives him justice.
He then said: "Sixteen years patiently I have borne itna zulm [this oppression]. My children have always seen me crying and for what?
"For a crime I have not committed. For a crime I have never even thought about."
Saifi refuses to return despite the advice of his legal team, which includes celebrity defence lawyer Majeed Memon. According to Memon, his client "cannot get his name cleared from outside [India]".
Musical comeback
Saifi has not recorded anything of note since the late 1990s and is now without his former music partner.
Yet he remains positive when asked whether he can make a successful comeback.
"God willing, I will still continue to lead the scene with my good music," he said. "The time has come now to perform my songs."
He insists he has been encouraged by his fans to return to music. "They are missing that work and I think it's my duty as long as I'm alive to cater to that need."
Saifi is currently working in Dubai on various projects but is yet to confirm a release date for his new material.
Hear the full interview with Nadeem Saifi on Bobby Friction's show on BBC Asian Network on 19 February from 17:30 GMT.