Lynda La Plante pens Prime Suspect prequel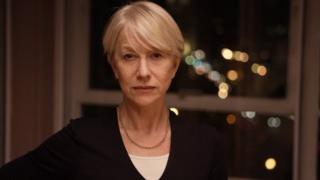 Crime writer Lynda La Plante is writing a prequel to her hugely successful TV series, Prime Suspect, which starred Dame Helen Mirren.
La Plante announced she has started work on the book Tennison, which she will adapt for the small screen.
Dame Helen played DCI Jane Tennison in Prime Suspect, which ran for seven series on ITV in the 1980s and 90s.
La Plante told BBC Radio 4's Front Row that she doubted the actress would return for her new project.
The prequel will start when Tennison joins the force in the late 1970s or early 1980s.
When asked by Front Row presenter John Wilson whether Dame Helen could return in a minor role, La Plante replied: "I would love to even approach her to consider it but I feel she has carved out such an impressive career."
"I really doubt she would want to go back," she added.
The book will be published in 2015 and the TV adaptation will air in 2016, the 25th anniversary year of Prime Suspect.
"When you first meet her (Tennison) in the early 90s, she is a very complex character, but what made her so?" La Plante said in a press release.
The international bestselling author added: "Nobody knows what drove her to become a DCI or want to join the police force in the first place."
The writer told John Wilson that she "had no-one in mind yet" for the role of the young DCI.
"It will be a great search (given) Helen Mirren's iconic performance," she said.
She added that she thought something had "marked her (Tennison) emotionally... something like a love affair with a high ranking officer who has been murdered."
La Plante is currently carrying out research for the book and is well known for her meticulous approach to her research.
Last year, she was made an honorary fellow of the Forensic Science Society for her authenticity and attention to detail in her books and TV series.