Rock veteran David Crosby postpones shows after surgery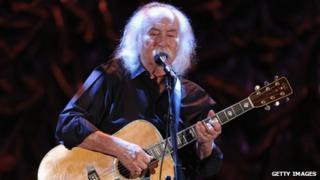 Rock veteran David Crosby is postponing the remainder of his solo tour after undergoing heart surgery.
The Crosby, Stills and Nash star was due to perform in San Francisco and Los Angeles later this month.
He has revealed he underwent a cardiac catheterisation and angiogram on 14 February, based on the results of a routine heart test.
"I am very glad that I listened to my doctors and my family," he said in a statement on his website.
The statement added that Crosby was "expected to have a full recovery. He did not have a heart attack, though it is certain that had he chosen to ignore his doctor's urgent recommendation, it would have led to one... the left anterior coronary artery was found to be 90% blocked, and two stents have been placed to provide blood flow to his heart muscle."
The San Francisco dates at the Great American Music Hall, originally scheduled for 20 and 21 February, will now take place on the 20 and 21 April.
The five shows at the Troubadour in Los Angeles were due to take place on 23, 24, 25, 27 and 28 February. They have also been put back until April - the exact dates will be announced shortly.
Two dates in Chicago and two in Vienna, Virginia, which were due to take place earlier this month, have been postponed until March.
Crosby has suffered from ill health in the past and underwent a liver transplant in 1994.
"It seems I am once again a very lucky man," Crosby said on his website.
"I'm sorry to have to move the dates, but I promise the music will be good when we do play them."
All upcoming Crosby, Stills and Nash shows will continue as scheduled. The first concert of the group's 2014 tour kicks off in Richmond, Virginia, on 4 March.
Crosby, Stills and Nash formed in the late 1960s and the supergroup performed their first concert as a trio at the legendary Woodstock festival.
Prior to the band's formation, Crosby was a member of folk-rock group The Byrds, Stephen Stills was in the band Buffalo Springfield, which also featured Neil Young, and Graham Nash was a member of The Hollies.
Young is an occasional member of the group, when they are known as Crosby, Stills, Nash and Young.