Christopher Malcolm, Rocky Horror's Brad, dies aged 67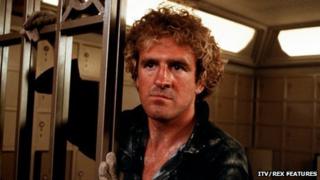 Tributes are being paid to actor and theatre producer Christopher Malcolm, whose roles included the original Brad Majors in the Rocky Horror Show and Saffy's gay dad in Absolutely Fabulous.
His death, aged 67, was confirmed by his daughter Morgan Lloyd Malcolm on Twitter, who wrote: "Today the world lost a beautiful, brilliant man."
She added he "left peacefully and with dignity. He will always be my hero."
His starred in films such as The Empire Strikes Back, Labyrinth and Highlander.
Having played Brad Majors in the original production of The Rocky Horror Show in 1974 and co-produced the 1990 West End revival, he then took charge of producing all productions of Richard O'Brien's much-loved musical around the world.
Just days before his death, his latest project, Oh! What a Lovely War at Stratford East, opened to glowing reviews.
Many of those involved in the production tweeted their condolences including musical director Mike Dixon, who said they had dedicated a performance of the show to Malcolm.
The Theatre Royal Stratford East said: "A very sad day. Our thoughts are with you all. Chris led the way with #OWALWonstage. Very proud. He is deeply missed."
As well as friends and colleagues, many tributes came from the huge fan communities dedicated to both Star Wars - he played Rebel Force Zev Senesca (Rogue 2) in Episode V: The Empire Strikes Back - and the Rocky Horror Show.
Rocky Horror actor Nathan Taylor tweeted: "I owe him so much, for believing in me, and giving me such a wonderful ride with #rockyhorror. Thank you Chris."
Other British theatre productions produced by Malcolm include both Flashdance and Footloose the Musical, Simon Callow's revival of The Pajama Game, A Slip of the Tongue starring John Malkovich and Single Spies written by Alan Bennett.
Although he worked more in the theatre world, he maintained his on screen acting career too, famously playing Justin in BBC comedy Absolutely Fabulous, the gay ex-husband of his friend Jennifer Saunders' character Eddie.
Malcolm was born in Aberdeen but his family soon moved to Canada where he was raised on a farm in British Columbia.
At 19, he returned to Britain to live with his grandmother in Essex and his professional acting career started with the Royal Shakespeare Company.
His grandmother used to play bridge with the mother of the RSC's associate director John Barton and helped to get him the audition.
In August last year he told the a Star Wars Interviews website that he spent a "magical" two years with the RSC "playing very minor roles but learning a great deal from the directors and the company of the finest actors in the UK at that time".
He name-checked Paul Scofield, Ian Holm, Diana Rigg, Helen Mirren, Frances De La Tour and Malcolm McDowell, with whom he shared a flat.
"It was the best apprenticeship that an actor could have and I was earning the princely sum of £16 a week, seems impossible to believe we lived on that in those days but it's true," said Malcolm.
When asked what he thought was his biggest career achievement he answered "working both in front and behind the curtain".
"I have had success as well as disappointing failures but overall I enjoyed them all, and made great friends through out the industry here and around the world," he said.
He is survived by his wife, the actor Judy Lloyd, and his three children and grandson.
His daughter Morgan Lloyd Malcolm, who is a playwright, thanked friends and fans for their messages on Twitter.
"So touched and moved by the wonderful messages and tweets about my dad. He was such a special guy. I'm so happy others have such memories too," she said.