Carey Mulligan and Bill Nighy to play ex-lovers in West End play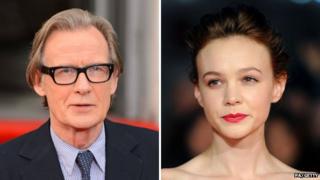 Carey Mulligan is to make her West End debut alongside Bill Nighy in a revival of Sir David Hare's Skylight.
Stephen Daldry will direct the play, which begins previews at Wyndham's Theatre on 6 June.
Mulligan plays schoolteacher Kyra Hollis who receives an unexpected visit from her former lover, the recently widowed Tom Sergeant (Nighy).
As the evening progresses, the two attempt to rekindle their once passionate relationship.
Also in the cast is Matthew Beard, making his stage debut, having appeared opposite Mulligan in the film An Education.
Mulligan was last on stage in the Atlantic Theater Company's 2011 production of Through A Glass Darkly in New York. She made her Broadway debut in Ian Rickson's production of Chekhov's The Seagull.
Sir David told the Daily Mail he saw Mulligan play Nina in The Seagull and believed that she would make a formidable Kyra.
"She's incredible on stage," he said.
Mulligan's recent film credits include Inside Llewyn Davis, directed by the Coen Brothers; The Great Gatsby, directed by Baz Luhrmann; and Shame directed by Steve McQueen.
The actress recently finished filming Far From the Madding Crowd, directed by Thomas Vinterberg, due for release later this year. She begins filming Suffragette directed by Sarah Gavron and written by Abi Morgan this month.
Nighy has performed in David Hare's Pravda and Map of the World as well as the 1997 production of Skylight. He was also in the world premiere of Hare's The Vertical Hour on Broadway.
His film credits include The Best Exotic Marigold Hotel, Love Actually, Wild Target, Notes on a Scandal and Still Crazy.
On television his credits include David Hare's Page Eight, State of Play and The Girl in the Cafe.
He will also be reunited with David Hare for Turks & Caicos and Salting the Battlefield, the second and third instalments of The Worricker Trilogy that began with Page Eight.
Skylight premiered at the National Theatre in 1995 and won the Olivier award for best play. The production transferred to the West End and Broadway, and returned to the West End in 1997.