Rediscovered Dame Margot Fonteyn footage to be screened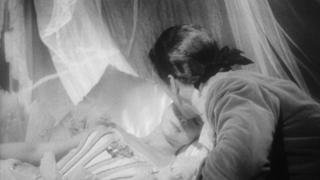 Ballerina Dame Margot Fonteyn dancing in a long-unseen performance of Sleeping Beauty will feature as part of BBC Two and Four's short ballet season.
The ballet, which will be presented by Darcey Bussell, was filmed for a BBC television special in 1959.
Kicking off the season on 1 March, Bussell will also host a documentary - Darcey's Ballerina Heroines - featuring figures that inspired her to dance.
A documentary about ballet and World War II will also be screened.
Dancing in the Blitz: How WWII Made British Ballet will see David Bintley, director of the Birmingham Royal Ballet, explore how the Sadler's Wells Ballet Company grew during the war, and how ballet became the antidote to austerity.
The programme will feature interviews with dancers of the period, including Henry Danton, talking about rehearsing and performing during the Blitz.
Coveted role
Colour film from the period taken by an amateur cameraman has been restored by archivists from the British Film Institute to be shown for the first time in more than 60 years.
The ballet season will also feature Good Swan, Bad Swan: Dancing Swan Lake, giving a behind-the-scenes glimpse of the life of a ballerina.
Artistic director of the English National Ballet, Tamara Rojo, has been filmed backstage as she prepares for one of ballet's most coveted roles - that of the swans Odette and Odile.
As well as performing the part, she will look back at other dancers who have taken on the prestigious role, and the demands put on ballerinas both physically and mentally.
Jan Younghusband, head of commissioning Music and Events, said: "BBC arts and music programming likes to put artists centre stage, as their knowledge gives us a unique insight into great performance and how it is achieved.
"BBC audiences will be able to re-experience some of the greatest ballet performances from the past and understand how great ballet roles were achieved from the great practitioners of now."