Sir Cliff Richard 'honoured' to support Morrissey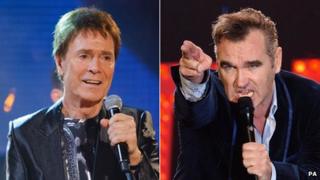 Sir Cliff Richard has said it was a "great honour" to be asked by former Smiths frontman Morrissey to support him at a concert in New York.
The 73-year-old, who will open for Morrissey at the Barclays Centre on 21 June, said: "I'd love to play to 15,000 people in the States and now I will."
But he said he would refuse to go vegetarian for the occasion. Morrissey often insists his gigs are meat-free.
Sir Tom Jones will support Morrissey at the Los Angeles Sports Arena on 10 May.
The concerts form part of Morrissey's 25-date US tour, which come a year after the singer was forced to cancel 22 US dates due to illness.
Sir Cliff, one of the biggest stars in British pop for 55 years, spoke to BBC entertainment correspondent Colin Paterson about the show:
Q. How did this come about?
A. About a month ago my manager rang me and said: "I'm going to throw a curveball at you. Morrissey wants you in New York with him."
I said, "My initial answer is yes but can you check it's not a joke? Is there an ulterior motive?" He got hold of Morrissey's management and he said: "No, Morrissey's a fan and he'd like you to be there."
So I said: "Yes, please." The chances of me singing for 15,000 people in New York are pretty well nil for me at the moment anyway. So I thought it would be great.
I checked on the internet and saw a couple of shots of him live, and his audiences look really - I don't know how to say this - they look really nice. They were swaying in the crowd and mouthing lyrics and I was thinking: "Oh, my audiences do that." So maybe his audience will be kind to me.
Q. How aware of his music have you been over the years?
A. I knew of him, even when he was lead singer of The J… The Smiths. I can't say that I've followed his musical career but I've followed the success. I've Googled him a couple of times now and I'm thinking, I could be a fan.
Q. What songs do you like?
A. I don't know, I couldn't tell you the titles. I've just Googled him to see what kinds of crowds he plays to and what sort of show he did. I'm thinking, OK, it looks like a pop-rock show.
I know he's very political with his lyrics, which is fine by me. I must have made a couple of statements in my time but tend to be a much more middle-of-the-road kind of singer. I'm going to enjoy it, that's for certain.
Q. He's no fan of the Royal Family, whereas you played the Queen's Jubilee. I imagine you could have some interesting conversations with him.
A. We could. I have interesting conversations with most of my friends. I have a circle of friends and sometimes I find we're poles apart politically and in many areas. That's life, so it doesn't surprise me that he has a different viewpoint of monarchy than I do.
Q. He also has very strict vegetarian rules surrounding the gigs - will you be going vegetarian for the day?
A. Certainly not. No, of course not. I like to think he might eat some meat when I arrive, but I wouldn't expect him to. So I don't think he'd expect me to be vegetarian. If I found he was offended by people eating meat then I won't eat it in front of him. But I'll have a chicken curry afterwards.
Q. Will you be tailoring your set list for this gig?
A. People who are aware of pop-rock in all its forms, that same audience will go to other concerts by other people who might have other philosophies and different styles of music. So you have to be the best at what you do.
I've always been a pop-rock singer. I like to move and shake and leap around the stage and sing a variety of pop-rock songs like Ocean Deep and Miss You Nights. Of course I'm going to do them. Unless I'm despicably bad that night... they don't have to love me, but they might think I'm OK.
Q. Will you be more nervous than usual?
A. I don't think so. I'm going to cut my show down to the best one-hour segment I can make it.
I've had hits in the States. I did have two songs in the top 10 - Devil Woman and We Don't Talk Any More. They will have heard of Wired For Sound. They know Suddenly, which I sang with Olivia [Newton John]. I'm just going to make it really difficult for Morrissey to follow me.
Q. You've had 14 number one singles. Morrissey's not had any. Do you not feel he should be supporting you?
A. Not at all. People don't know me in America. That's why I had no problem saying yes. If Morrissey asked me to support him in England, I'd question it greatly. I'd say: "You can have the first half and I'll have the second half."
But this is a different world. I've had nine top 30 hit singles [in the US] but I have no identification out there. All I can say is "Thank you Patrick, or Morrissey" - I'm not quite sure how to refer to him - and I'm so grateful that he's thought of having me on the show. I'd love to play to 15,000 people in the States and now I will.
Q. Did he explain why he picked you?
A. No, I've only heard that he likes me. The words were "he's a fan of yours" and that's enough for me to hear. It's a great honour for me to be asked by someone like him because no-one would expect him to ask me, and that's what I like about it.