Lucasfilm to open ILM outpost in London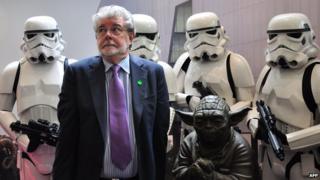 Industrial Light and Magic, the visual effects division of Star Wars producer Lucasfilm, is to open a facility in London to work on the effects for the upcoming next instalment in the series.
According to the Hollywood Reporter, its 200 staff will also work on other films produced in the UK.
These include Age of Ultron, the follow-up to 2012's Avengers Assemble.
Star Wars: Episode VII is expected to start shooting in May at Pinewood studios under JJ Abrams' direction.
It follows the Disney company's purchase of George Lucas's studio and its various divisions for $4.05 billion (£2.44bn) two years ago.
Roger Guyett will supervise the visual effects for the new Star Wars film, having previously worked with Abrams on his Star Trek films.
Guyett also worked on Revenge of the Sith, the third of the three Star Wars prequels that Lucas directed between 1999 and 2005.
The Hollywood Reporter quotes ILM president Lynwen Brennan as saying the new facility will be "a full service studio" with an "end-to-end visual effects and computer graphics pipeline".
"We needed to expand, and London is a key place to find great talent," continued Brennan, who has been with Lucasfilm since 1999.
The outpost's opening to the north of London's Soho district, already home to numerous leading visual effects "houses", follows the opening of a new ILM facility in Singapore last month.
It occupies a building that has been dubbed the "Sandcrawler" - a reference to the giant hulking transport used by the Jawas in the original Star Wars movie.
Avengers: Age of Ulton is set to open in May 2015, while Star Wars: Episode VII will be released in December that year.