Children's illustrator Erik Blegvad dies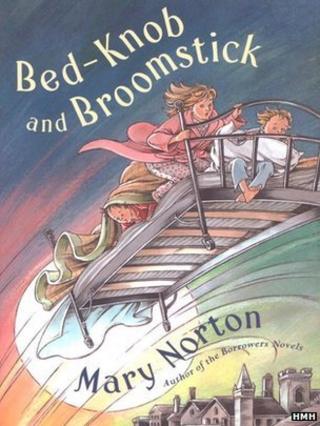 Artist Erik Blegvad, who illustrated more than 100 children's books over his career, has died aged 90.
He is best known for the cover art on Mary Norton's Bed-Knob and Broomstick, which was adapted into a Hollywood film in 1971.
He also illustrated his own translation of Hans Christian Andersen's fairy tales in his pen-and-ink style.
Blegvad's son, musician and cartoonist Peter, said his father had died on 14 January in London.
Born in Copenhagen, Denmark, Blegvad studied at the Copenhagen School of Arts and Crafts and began working as a commercial illustrator in Paris.
He met his American wife Lenore while in the French capital and, after marrying in 1950, moved to the US where he began contributing to American magazines.
The first children's book he illustrated was The Story of Peace and War by Tom Galt in 1953.
He went on to work with numerous authors including Carol Kendall on The Gammage Cup (1959), Judith Viorst on The Tenth Good Thing About Barney (1971) and fellow native countryman NM Bodecker on Hurry, Hurry, Mary Dear! (1998).
His drawings were characterised by elongated figures and dense crosshatchings.
A 1996 review in The Washington Post for his illustrations of Andersen's famous tales called him a "modern master".
The New York Times also credited Blegvad with creating "the finest, hairiest, scariest trolls" in his 1984 picture book Peter and the Troll Baby.
He also collaborated with his wife, who wrote numerous children's books, illustrating them until her death in 2008.
One such book, 1978's This Little Pig-a-Wig and Other Rhymes About Pigs, was named one of the best illustrated children's books of the year by The New York Times Book Review.
Although he spent most of his time in South Wardsboro, Vermont, in his later years, Blegvad lived in both London and the US.
As well as Peter, he is survived by a second son, Kristoffer.