Twilight star Taylor Lautner joins BBC comedy Cuckoo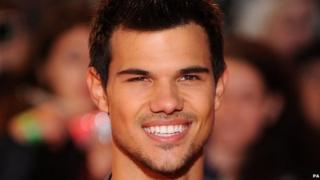 Twilight star Taylor Lautner has signed up to star in the second series of the BBC Three comedy Cuckoo.
The Bafta-nominated series stars Greg Davies and Helen Baxendale as a couple whose young daughter returns from her gap year with an American husband.
Andy Samburg, who played the unwanted son-in-law (Cuckoo), will not return for the second series.
He has recently won a Golden Globe for his role in the US comedy Brooklyn Nine-Nine.
It is the first TV role for Lautner since he found fame in the Twilight films, playing the role of Jacob Black.
Cuckoo, which launched in September 2012, was the biggest comedy launch in BBC Three's history.
It was nominated for two British Comedy awards as well as Davies' nomination for best male comedy performance at the Baftas.
The second series will pick up two years after Samburg's character has disappeared while walking in the Himalayas.
He is presumed dead and Rachel has found love again with a new boyfriend, "a nice-but-dull lawyer".
Lautner will play a mysterious stranger who arrives to turn their lives around again.
Controller of BBC Three Zai Bennett said: "I'm delighted to welcome it back with the addition of superstar Taylor Lautner", adding it would be "one of the comedy treats of the year".
There are no details yet about a transmission date for the new series.