Samuel L Jackson berates host for mistaken identity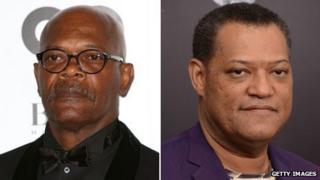 Actor Samuel L Jackson has scolded a US TV host who mistook him for fellow movie star Laurence Fishburne.
KTLA reporter Sam Rubin began an interview with the actor by asking about his recent Super Bowl commercial.
He was referring to an advert for the new Kia sedan - in which Fishburne reprised his role from The Matrix.
"We don't all look alike! We may all be black and famous but we don't all look alike," said Jackson. "There's more than one black guy doing a commercial."
He continued: "I'm the 'What's in your wallet?' black guy. He's the car black guy.
"Morgan Freeman is the other credit card black guy. You only hear his voice, though, so you probably won't confuse him with Laurence Fishburne," said the star, who was appearing live from Atlanta.
Rubin, from his studio in Hollywood, apologised on numerous occasions and tried to steer Jackson onto a discussion about the revival of Robocop - the original reason for the interview.
"Let's talk about Robocop," he said. "Oh hell, no," replied Jackson.
"There must be a very short line for your job," he continued.
The actor continued to rib Rubin for his mistake, asking if he would have trouble telling apart his co-stars Gary Oldman and Michael Keaton.
"You do know who they all are though, right? Just in case they have some of them on the show. Do some work. Do some research. Make sure you don't confuse them with those other white actors," he said.
Veteran Entertainment correspondent Rubin, who has won numerous awards during his career, said on-air after his gaffe that "more often than not I really do know what I'm talking about."
"But I didn't 30 minutes ago and I'm really embarrassed about it, and I very much apologise to Samuel L Jackson and anyone else who was offended for what was a very amateur mistake.''