Babette's Feast director Gabriel Axel dies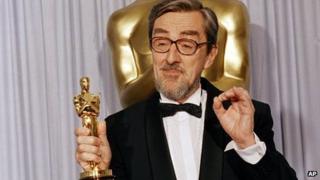 Gabriel Axel, whose 1987 film Babette's Feast became the first Danish title to win the Oscar for best foreign language film, has died at the age of 95.
According to his daughter, Axel died "quietly and peacefully" on Sunday "after a long and eventful life".
Axel already had more than 35 years of screen credits before he made the film for which he is best known.
Based on a Karen Blixen story, it told of a Frenchwoman who cooks a feast for the inhabitants of a Danish village.
Starring Stephane Audran as Babette, the film beat Louis Malle's Au Revoir Les Enfants and three other titles to the 1988 foreign film Oscar.
Lifetime achievement award
Axel went on to make Prince of Jutland, about the real-life royal who inspired Shakespeare's Hamlet, though it did not enjoy Babette's international success.
Born in 1918 in the city of Aarhus, Axel grew up in Paris before returning to Denmark at the age of 18 to work as a carpenter.
After enrolling in the Royal Danish Theatre's acting school, he produced TV series for Denmark's public broadcaster and directed and acted in films.
Axel's last directorial credit was 2001's Leila, a romantic drama about a Danish tourist who falls for an Indian girl in Marrakech.
Two years later he received a lifetime achievement award at the Copenhagen International Film Festival.
In 2000, Babette's Feast was named the sixth best foreign film of all time in a poll of 35,000 US cinemagoers.
Only two other Danish films have repeated its Oscar success: Pelle the Conqueror in 1989, and In a Better World in 2011.