Lucian Freud letters and drawings up for auction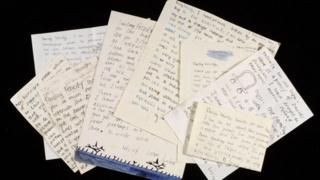 Unpublished letters and drawings by the young Lucian Freud are to be offered at auction in London beside a major portrait he painted later in life.
The 11 letters, written by the 21-year-old Freud to his first girlfriend in the 1940s, are expected to fetch up to £5,000 when they are sold at Sotheby's.
Three drawings by the late artist from the same period will also be auctioned.
Another work, a portrait of his friend Lady Lambton painted in the 1960s, is tipped to fetch up to £3.5m.
Freud, one of Britain's most distinguished and highly regarded artists, died in 2011 aged 88.
According to Sotheby's, Freud's letters to fellow art student Felicity Hellaby "provide a fascinating insight into the artist's early preoccupations".
Written in an uneven hand and peppered with illustrations, "they also give a keen sense of the determination and focus that were to underpin his approach to art".
They also show a limited grasp of spelling, with "delishious", "postphoned" and "spontanious" among his more egregious mistakes.
In his missives, the young artist describes his developing style, writing: "One day I think I am beginning to make my work how I want it to be and then I feel so dissatisfied with it that I leave the house".
He also talks about buying a "large Zebra's head" which "looks very strange on the wall".
"By far the best thing I have ever bought," he concludes.
The letters and the drawings that are being offered for auction with them have been in Hellaby's possession since the 1940s.
Now in her nineties, Hellaby recently remembered him being a "very funny" and "incredibly charming" man destined for "extraordinary things".
Head on a Green Sofa (1960-61), a portrait of the noted socialite born Belinda Blew-Jones in 1921, was considered by Freud to be one of the best ever works.
After becoming Belinda, Lady Lambton at the age of 18, "Bindy" became one of Freud's main supporters and helped him secure numerous lucrative commissions.
According to Sotheby's, the "exceptional" painting "beautifully captures the form of the woman who was to play such a central role in Freud's life for over two decades".
Painted during "a period of pivotal change in the artist's work", it was last seen in London as part of the National Portrait Gallery's 2012 Freud retrospective.
Head on a Green Sofa goes under the hammer on Wednesday, while the letters and drawings will be auctioned the following day.