20 Feet From Stardom shines spotlight on backing singers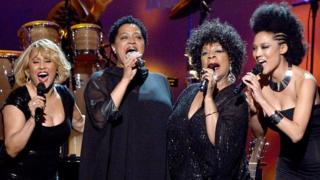 Their voices are known to millions, heard on some of the most famous songs ever recorded.
But who were the backing singers on songs like The Rolling Stones' Gimme Shelter or David Bowie's Young Americans?
All is revealed in Morgan Neville's Oscar-nominated documentary 20 Feet From Stardom, which shines a spotlight on the unsung world of the back-up vocalist.
The film includes interviews with Bruce Springsteen, Stevie Wonder, Mick Jagger and Sting.
But its real stars are singers such as Darlene Love, Judith Hill, Merry Clayton, Lisa Fischer and Tata Vega. The success of the documentary has seen many of them enjoying a huge career boost.
Director Morgan Neville tells the BBC about making 20 Feet From Stardom, his Oscar hopes for the film and how it could become a stage musical.
How does it feel to have 2013's top-grossing documentary in the US and an Oscar nomination?
We made the film not knowing if anyone would care about these singers. It's been unbelievable to see this outpouring of love for them.
The best part of this film is watching how the women in it have had their lives transformed by it.
You never expect you are going to be able to right wrongs but these women have new opportunities that would have never happened otherwise.
Why has no-one told the story of backing singers before?
When producer [the late] Gil Friesen mentioned the idea of back-up singers, I didn't know anything about them and that intrigued me.
I knew it was uncharted territory and what it became was a different way of looking at American and English pop music history.
Were you surprised that most backing singers started in church choirs?
It was something that came up over and over.
It's not just that it's great training to sing in harmony but the mentality of being in choir in a church: the idea of serving God, something greater than yourself and having a sense of selflessness.
All that comes from the church and that's the character profile of the backing singer.
What else did you discover?
I had some misconceptions about back-up singers. One was that they weren't as good as lead singers. I quickly realised that was not true. They have to be better.
They walk into a session and don't know if they're singing with Frank Sinatra or the Mamas & the Papas or Joe Cocker. They have to be able to match that style and be perfect on every take.
The other was these women are not wallflowers. They're people who, I feel, are stars in an alternative universe. What's the difference between a lead singer and back-up singer? To some extent, it's a hit.
There's a spine-tingling moment in the film when Merry Clayton recalls being summoned from her bed for the late-night recording session of Gimme Shelter.
That was a scene we shot fairly early on. It helped give me a hold into how to tell the story.
Gimme Shelter is one of the great all-time rock songs. The fact that you can hear it anew is fantastic. Now every time I hear it differently - all I hear is Merry scream: "Rape, murder; it's just a shot away." And I picture her in her curlers.
How hard was it to get contributors like Bruce Springsteen, Stevie Wonder and Sting?
Sting had been on A&M Records and Gil had been president and was like an older brother figure to Sting. That was one of the easy ones. Sting actually recommended a bunch of singers.
People like Stevie and Bruce aren't easy people to track down but once they saw what we were doing they all agreed to do it.
They'd all been interviewed a thousand times before but nobody had ever asked them about back-up singing. They were talking about people they knew and loved.
Darlene Love worked with Phil Spector - did you try to get him too?
It is legally impossible. There is a California State law to prevent news crews being able to interview specific inmates. I didn't try because I knew that.
His relationship with Darlene is complex. She ended up suing him for royalties in the '90s and won.
What chance might we get to see the singers in the film performing at the Oscars?
I'd love for that to happen. It would be a long shot. We've all fantasised about it.
It's a priority to ensure that they're at the Oscars. Right after we got nominated Darlene called and said: "I've started my red carpet diet."
And there's talk of a spin-off TV series and a Broadway musical?
Reports were a little premature. We've talked about it but there's nothing imminent.
It could be rich for a TV series and a musical. If you look at the big jukebox musicals, this is one where there are big songs that are organic to the characters.
Our film is in no way the last word on back-up singing. It's the first word. It's opened up this whole other universe.
20 Feet From Stardom is released in the UK and Ireland on 28 March.