Les Dawson wrote secret romantic novel in woman's name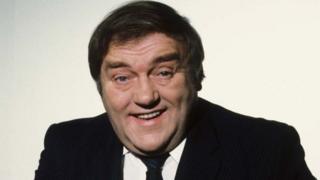 Comedian Les Dawson secretly wrote a romantic thriller novel under a female nom de plume, it has been revealed.
The unpublished story of love and mystery, titled An Echo of Shadows, was written under the name Maria Brett-Cooper before his death in 1993.
Dawson wrote the book under a pseudonym because "he was scared that it wouldn't be taken seriously" under his own name, his daughter Charlotte told the BBC.
He was known as a rubber-faced funnyman but wanted to be a success as a writer.
The unfinished 110-page manuscript was recently found by his family when they were moving house and was featured on BBC One's Inside Out North West on Monday.
Dawson's tale starts in the American Civil War in 1862 when a Union soldier finds gold bullion in a captured Confederate wagon.
The soldier transports the bullion to Cornwall, but with it comes a curse that haunts him and his family over the subsequent decades.
The epic yarn encompasses elements of romance, supernatural mystery and sweeping historical saga.
Dawson was most famous for TV shows like Sez Les and Blankety Blank, for dressing as a woman for his Cissie and Ada sketches, for his mother-in-law jokes and for his gurning facial expressions.
But writing was his "first love", his widow Tracy said.
An Echo of Shadows "reminds me a little bit of a Barbara Taylor-Bradford story or Catherine Cookson", she said.
"He was told by publishers that if he was ever going to do a romantic novel, which he wanted to do, one of his friends said it might be better to do it under an assumed name, like a lady's name. I don't know where he got the name from."
The book is dedicated to his wife, who added: "He was always writing and I didn't realise it was something like this, so I am very surprised."
Dawson did publish one serious work of fiction under his own name during his lifetime, 1986's A Time Before Genesis, which has been described as "a disturbing novel of alien conspiracy, sexual mutilation and global apocalypse".
Asked why he chose a pseudonym for his later novel, Mrs Dawson replied: "He was at the top of his tree for stand-up comedy and his true love was writing.
"He was very deep. He was a very intellectual man and I think he wanted to bring the serious side of his writing out."
Charlotte Dawson, who was eight months old when her father died, now wants to finish the manuscript and find a publisher.
Inside Out North West is available to watch on the BBC iPlayer.