Tom Cruise lawyer dismisses 'bizarre' $1bn Mission: Impossible plagiarism claim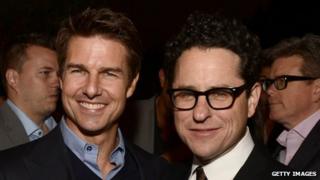 A legal action alleging Tom Cruise's fourth Mission: Impossible film was based on a pre-existing script has been called "bizarre" by the star's lawyer.
"Tom Cruise has never stolen anything from anyone," said Bert Fields, saying the claim would be "quickly dismissed".
Screenwriter Timothy Patrick McLanahan claims 2011 film Mission: Impossible - Ghost Protocol was "illegally" based on his 1998 script Head On.
He is seeking $1bn (£613m) in damages.
McLanahan filed legal papers against Cruise, Paramount Pictures and several production companies in December 2013 that were published online this week.
Producer JJ Abrams and Julie Smythe - whose late husband Tim was instrumental in bringing the Ghost Protocol shoot to Dubai - are also among the 13 defendants.
In the court papers, the plaintiff claims he sent his script to the William Morris Agency only to have it turned it down.
He goes on to allege the script was "shopped around the world" without his permission and that it eventually formed the basis for the fourth instalment in Cruise's spy-based franchise.
The film took nearly $700m (£446m) at the worldwide box office, going on to earn more from DVD and Blu-ray sales.
"Because the Ghost Protocol film generated close to $1bn, I am asking for this amount in damages," said McLanahan in the court papers.
A fifth Mission: Impossible film is now in the works and is expected to be released in December 2015.