The Selfish Giant hopes to defy Gravity at the Baftas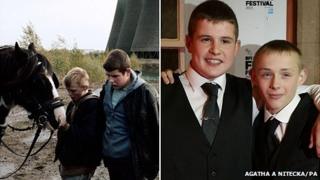 Low-budget drama The Selfish Giant will go up against space odyssey Gravity (among others) in the best British film category at the Bafta Awards on Sunday.
The Selfish Giant, the bleak tale of two boys living on the margins in Bradford, already has a string of awards to its name.
It was voted British film of the year by the London Critics' Circle, won best film at the South Bank Awards and took the Europa Cinemas Label award at the Cannes Film Festival.
Its two young stars, Conner Chapman and Shaun Thomas, who were aged 12 and 15 respectively when they shot the film, shared the best newcomer prize at the London Film Festival.
To add the Bafta for outstanding British film to that list, The Selfish Giant must beat cosmic blockbuster Gravity, motor-racing drama Rush, Dame Judi Dench's powerful Philomena, Nelson Mandela biopic The Long Walk To Freedom and Mary Poppins spin-off Saving Mr Banks.
"I'm aware that this is the small film among these giant films," The Selfish Giant's writer and director Clio Barnard says. "I feel very touched that people voted for it."
She recounts a joke her cinematographer cracked on hearing the nominations: "We probably made The Selfish Giant for the gaffer tape budget of Gravity."
There has been much debate about whether Gravity, starring Hollywood A-listers George Clooney and Sandra Bullock and directed by Mexico's Alfonso Cuaron, should be in the category at all.
"It was shot here and all of the special effects were done here so it seems fair enough to me," Barnard reasons.
Some people have suggested that the category should be reserved for independent and identifiably British productions, thereby giving more films like The Selfish Giant much-needed exposure.
"I can definitely see that argument," Barnard responds, diplomatically trying to avoid biting the hand that is feeding her. "I'm slightly sitting on the fence here, I know. But I just feel really pleased to be nominated."
Being nominated has given a boost to the profile of The Selfish Giant, she says.
"It's incredibly important for a film like this which doesn't have any stars in it and we don't have a budget to promote it. It's not a commercial film. So to get it out there is really brilliant."
The Selfish Giant, Barnard's second feature film, was released to wide acclaim in October.
It followed her debut The Arbor, a strikingly original docudrama about Bradford playwright Andrea Dunbar and her family.
While shooting that film on location on a road called Brafferton Arbor, Barnard got to know teenage boys who went scavenging for scrap metal with a horse and cart. They inspired The Selfish Giant.
The film has struck a chord, she believes, because people identify with its themes of friendship and loss. On top of that, she wanted to make a political point about how these boys came to be living the life they were.
"I was very incensed," she says. "I made another film in the same place and I got to know people very well on this street. I guess I understood from spending time there how difficult it is to get an education, never mind get by beyond education.
"I felt that these kids were being very much pushed to the edge and their value was not being recognised and we were losing them. And it upset me."
Barnard found Chapman and Thomas, who had not acted before, through a trawl of schools and stables in the city.
As a result of the film's success, the boys now share an agent, have been cast in other films and TV shows and will be on the Bafta red carpet.
"They're also keeping their feet on the ground and know that they need to get other skills and qualifications at the same time," Barnard says.
The Selfish Giant also broke new ground as one of the first films to be released online, on demand and in cinemas at the same time. That, the director pointedly explains, "wasn't my decision".
She worries that the sound and landscape shots were not the same on a TV, tablet or computer as on a big screen.
But it was good for some people - "There was a whole period when my kids were little and I couldn't get to the cinema," Barnard says - and she saw lots of people sharing the link online.
"There's a great accessibility that you don't have if it's only showing in your local cinema for a week," she says.
"Sadly, a film like this played for a long time in London but it didn't around the country, which, of course, is really disappointing. So knowing that people can access it online is great."
'Complicated' plans
However, she is a creature of the cinema. She points out that the French distributor flatly refused to allow a simultaneous online release.
"It made me think it would be great to improve cinema culture here so it's more like it is in France or even in the States," Barnard says. "It's very commercial there [in the US] but it's recognised as an artform as well. People are very cine-literate."
After The Arbor and The Selfish Giant, Barnard is one of British film's hottest directors.
She is now working on two new projects - adaptations of Rose Tremain's novel Trespass and Polly Stenham's play Tusk Tusk.
Stenham is writing the screenplay for the latter, the first time Barnard has worked with a writer. And Barnard is adapting The Trespass herself - the first time she has adapted a novel for the screen.
"It's a fascinating process because you have to change thought into action and image," she says. "And that's kind of complicated."
And after her first two releases, Barnard will not be using Bradford as a backdrop.
She may be an underdog to win the Bafta, but the ceremony will be a good place for her to say goodbye to The Selfish Giant and embark on the next stage of her career.