Bafta Awards: When is a film a British film?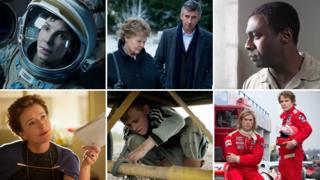 After last month's Golden Globes ceremony, Prime Minister David Cameron congratulated "the British film 12 Years a Slave" on its wins. So why is it not up for best British film at Sunday's Baftas, while Gravity - with US actors and a Mexican director - is?
It was not only Mr Cameron who tried to claim 12 Years a Slave for the UK.
BBC One 10 O'Clock News presenter Huw Edwards also described the drama as a British film when introducing a report about the Golden Globes.
It was, after all, directed and co-produced by Britain's Steve McQueen and features an excoriating lead performance from London actor Chiwetel Ejiofor.
But when the Bafta ceremony takes place, the award for outstanding British film will be contested by Gravity, Mandela: Long Walk to Freedom, Philomena, Rush, Saving Mr Banks and The Selfish Giant.
Nik Powell, chair of Bafta's film committee, explains: "12 Years a Slave was not considered by the committee because it didn't list itself as a British film."
When a film is submitted to Bafta for consideration, its producers can tick a box to say it is British, Mr Powell says. The producers of 12 Years a Slave did not tick that box.
After all, despite the involvement of McQueen and Ejiofor, an American book was adapted by an American writer, filmed in the US with a largely non-British cast and crew and produced by US production companies.
The Bafta rules say the British film category rewards "outstanding and original British film-making which shows exceptional creativity and innovation".
So what about Gravity? Although it stars Hollywood A-listers Sandra Bullock and George Clooney and is not set in Britain (or any country for that matter), it was filmed in the UK and its groundbreaking visual effects were made in Britain.
"We're proud that films like Gravity are British and we're proud to have them made here by British people," Mr Powell says.
"The prime objective is to show the huge range of British films, and to show the audience that some films they might not initially think of as British are actually incredibly British."
To be eligible for the category, Bafta rules say that, unless there are exceptional circumstances, a film must "have significant British creative involvement" and be certified as British by the British Film Institute (BFI).
The BFI gives a film official British status for the purposes of receiving tax relief if it passes a "cultural test" or is a co-production between the UK and another approved country.
The cultural test contains 15 criteria, from having the dialogue in the English language and being set in the UK to using British locations, director, cast, writer, composer and producer.
A film must score 16 points out of a possible 31 to pass. Gravity passes - if you count its director Alfonso Cuaron as British because he lives in London. Which the BFI does.
Another contentious inclusion in the category is Mandela: Long Walk to Freedom, which is a UK-South African co-production, but which has not passed the BFI's cultural test.
Like 12 Years a Slave, it is a non-British story about non-British characters, adapted from a foreign book (Nelson Mandela's autobiography), with a British director (Justin Chadwick) and star (Idris Elba).
There was a stronger British presence among Mandela's crew and production companies, though. "You have a British writer, British director of photography, British composer," Mr Powell says. "So I think you can say it's pretty British."
He adds: "However you manage it, there will always be grey areas. Nationality of films in the global village that we live in has become perhaps more difficult now than it was 10 years ago."
Some observers have queried Bafta's criteria.
Radio Times film critic Andrew Collins bemoaned the inclusion of Gravity, Saving Mr Banks and Mandela and lamented the absence of Alan Partridge: Alpha Papa, Danny Boyle's Trance and Ben Wheatley's A Field In England.
Screen International editor Wendy Mitchell suggested the category could be renamed best independent British film "as a way of levelling the playing field so that The Selfish Giant doesn't have to compete with a $100m studio epic".
A separate ceremony, the British Independent Film Awards, has filled that niche in recent years.
Its big winner this year? Metro Manila, a low-budget crime thriller written and directed by Brighton-born Sean Ellis. Oh, and it was set and shot in the Philippines with dialogue in the Tagalog language. Would that pass the cultural test?
Bafta has chosen to nominate Metro Manila for best foreign language film rather than outstanding British film.
Few films are 100% British. Of those, even fewer are good enough to deserve a Bafta nomination.
In the modern film industry, stories, stars and funding are not bound by borders and it is harder than ever to pin down the definition of a British film.
May the best film win.