The Mistress Contract: reviews round-up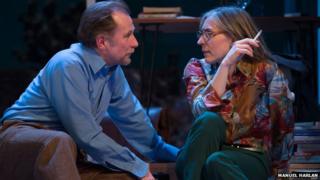 Abi Morgan's new play The Mistress Contract, about a real-life couple's unusual 30-year affair, has failed to ignite the passion of some critics.
"For an unconventional story about remarkable people this is as straight as a church tea party," wrote The Arts Desk's Aleks Sierz.
"Chaucer, Shakespeare, Stendhal and Zola will make you more randy than this couple."
The Mistress Contract runs at London's Royal Court theatre until 22 March.
Morgan, whose TV and film work includes The Hour, Shame and The Iron Lady, has adapted the memoir of a couple who lost touch after university, but met 20 years later and began an affair.
The couple are only ever referred to as She and He.
The woman, a feminist played by Saskia Reeves, asks the man (Danny Webb) to sign an agreement that she will provide "mistress services" in return for a house and income.
The contract also stipulates that she will record all of their encounters. The 90-minute play - directed by Vicky Featherstone - charts their meetings from 1981 to 2010.
"The emotional temperature is cool," continued Sierz's two-star Arts Desk review.
"For this play to work, you need to believe that their relationship once had fire, once had spit, once had conflict and climaxes. Instead, you get a couple for whom inertness would be a compliment and who seem to be as arid as the desert in which their meetings take place."
The Guardian's Michael Billington described the play as "something of a romcom for the intellectual classes".
Giving the play three stars, he wrote: "Although I admire the play for its sexual candour, it still strikes me as a hermetic, inbred work in which private lives are never really subjected to the pressure of external events."
As a foray into the world of gender politics The Mistress Contract wasn't "blazingly original", observed the Evening Standard's Henry Hitchings in his two-star write-up.
"What it fatally lacks is a bruising sense of the personal - of life really lived, rather than fussily discussed.
"At one point, She speaks of 'desert masquerading as a garden'. It's a reference to her lawn but the words are an apt summary of this humourless, dramatically undernourished experience."
The Telegraph's Charles Spencer awarded the play three stars.
"I have to admit that I wished the play dealt more with love, lust and the human heart and less with sexual politics," he wrote.
"In Saskia Reeves's earnest, bespectacled performance you can't help thinking she got the better part of the deal in getting her lover to pay while also reading him the riot act about feminist issues.
"Nevertheless there are many moments when one feels like shaking both these garrulous, self-obsessed people who both seem scarily deficient when it comes to a sense of humour."
Awarding one star, The Mail's Quentin Letts compared the play to "a princely dose of toothache".
"She and He talk to one another about sex like a couple of sociology lecturers," he opined.
"The actors, flailing under Vicky Featherstone's wooden direction, do much striding around and drinking of wine. I certainly felt like doing the latter by the time this turgid evening ended."
The real-life couple whose story is told in the play - she is now 88 and he 93 - have remained anonymous and continue to live in separate houses on the west coast of the US.